​
Mayors Challenge impact: A look back at previous winners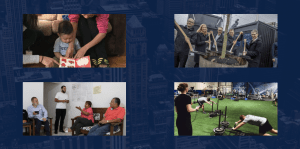 The Bloomberg Philanthropies Mayors Challenge is an ideas competition for cities to create the biggest and boldest solutions to their toughest problems. Winning cities receive $1 million to put their breakthrough idea into action, as well as expert coaching to support implementation. The latest round of the competition is open to all cities globally with populations greater than 100,000.
Here, we look back on the winners of the previous Mayors Challenges and dig further into some of the most impactful ideas of the bunch.
Round 1: United States (2013) 
More than 300 cities across the U.S. competed in the inaugural Mayors Challenge. The five winning cities were Chicago, Houston, Philadelphia, Providence, R.I., and Santa Monica, Calif. Their ideas addressed issues from early childhood education to waste management to wellbeing.
Breakthrough: Providence
City leaders in Providence looked at research on early childhood learning and devised an innovative program called Providence Talks. The goal is to make sure very young children from low-income households hear plenty of spoken words each day, which is critical for vocabulary building, brain development, and school readiness. The kids wear a recording device that counts the words, and parents and caregivers get coaching and support. A Brown University study found that children in the program made significant gains in language development. Now, with support from Bloomberg Philanthropies, five cities are replicating the Providence Talks approach, including Birmingham, Ala., Detroit, Hartford, Conn., Louisville, Ky., and Virginia Beach, Va.
Read more about the 2013 winners:
New evidence helps more cities adopt Providence Talks model
How a public-private partnership boosted wellbeing in Santa Monica
Round 2: Europe (2014)
More than 150 cities from 28 countries submitted ideas for the 2014 Mayors Challenge. Winning ideas addressed issues from social isolation to climate change, with a strong focus on tapping into technology, partnerships, and the creativity of the public. The winners were Athens, Greece; Barcelona, Spain;  Kirlkees, U.K.; Stockholm, Sweden; and Warsaw, Poland.
Breakthrough: Stockholm
Stockholm set out to engage residents in the fight against climate change by converting their garden waste into a charcoal-like material called biochar. The production process traps carbon in the biochar, which can be used as a soil conditioner that grows healthier plants and sponges up stormwater. Stockholm's biochar plant can produce 300 tons of biochar a year, sequestering carbon equivalent to the emissions of 700 cars. A number of European cities, as well as the U.S. city of Minneapolis have expressed interest in rolling out their own variations of the program. 
Read more about the 2014 winners:
Inspired by Stockholm's success, a U.S. city goes big on biochar
In Barcelona, an app keeps seniors connected
How the sharing economy helped one city tighten its belt
How partnership with the visually impaired helped Virtual Warsaw
A profile in bold leadership: Deputy Mayor of Athens, Amalia Zepou
Round 3: Latin America & the Caribbean (2016)
For its third edition, the Mayors Challenge moved to Latin America and the Caribbean, where 290 cities from 19 countries submitted ideas. Winning cities included Bogotá and Medellín in Colombia, Guadalajara, Mexico; Santiago, Chile; and São Paulo, Brazil. Their ideas included innovations aimed at children's health and safety, entrepreneurship, and government transparency.
Breakthrough: Medell

ín 
Without access to the formal banking system, hundreds of thousands of Medellín residents use loan sharks tied to organized crime gangs to borrow money—and interest rates on these illegal loans run as high as 800 percent a year. Medellín gave them a better option in Bancuadra, a safe microlending program that offers residents small loans at reasonable rates to buy food, pay utility bills, or take care of other everyday expenses. A key component is that borrowers must form "trust networks" of five to ten friends, family, or colleagues, each of whom receives an initial sum of about $62 and can't take out another loan until all members have settled up. It's working. An evaluation found that Bancuadra borrowers are saving an estimated $787 a year on interest, and their personal savings are going up significantly.
Read more:
How Medellín is breaking the grip of illegal lending
Why cities around the world should take notice of Santiago's fight against childhood obesity
How Bogotá is making kids' commutes safer, educational — and fun
Guadalajara fights corruption — and changes the way it's being built — one click at a time
As Amazon burns, São Paulo pushes sustainable agriculture
Round 4: United States (2018)
The Mayors Challenge returned to the U.S. in 2018, and more than 320 cities submitted ideas. Of those, 35 Champion Cities received $100,000 each to participate in a six-month testing phase where they prototyped their ideas with residents and refined their proposals. Winners included Denver, Durham, N.C., Fort Collins, Colo., Huntington, W.Va., Los Angeles, New Rochelle, N.Y., Philadelphia, and South Bend, Ind. Their ideas include novel solutions related to homelessness, the opioid crisis, mobility, climate change, and economic opportunity. 
Breakthrough: Huntington
A wave of opioid overdoses that struck Huntington from 2014-18 took an emotional toll on the city's first responders. "Compassion fatigue"—and staff turnover—became problematic as first responders found themselves repeatedly reviving patients, only to see them later die. Huntington first tested, and now has launched, a wellness program for its firefighters and police officers called Compass. The program employs a social worker to tend to their mental health and a certified trainer to lead workouts. Soon, first responders will have their very own wellness center. At a time when COVID-19 puts even more strain on first responders, many cities are looking to Huntington for answers on how to maintain their physical and emotional health.
Read more:
Mayors Challenge: Meet the people driving 9 innovative projects forward
Prototyping city solutions and launching a revolution
How one city is prioritizing the wellbeing of its first responders
Philadelphia's 'trauma-informed' approach to youth justice gives kids a lift