Medellín microlending program builds users' savings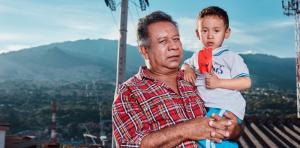 March 11, 2020
Para la versión en español, haga click aquí.
An experimental microlending program in Medellín, Colombia, is showing impressive results by offering the city's poorest residents a safe alternative to borrowing from loan sharks controlled by organized crime gangs.
According to new research, users of the city-run program Bancuadra have sharply reduced their use of illegal loans. Borrowers are saving an estimated $787 a year on interest, and their personal savings are going up significantly, the research found.
The findings are likely to resonate in cities in Chile, Mexico, Peru, and elsewhere in Latin America, where consumer lending markets are increasingly in the grip of criminal gangs. Paying interest rates of as much as 800 percent a year, residents who need small loans to do home repairs or invest in a business can easily spiral deeper into debt and face threats to personal safety. In Medellín, more than 1 million residents — mostly people with low incomes who can't access formal lending systems — use these loans.
Bancuadra gives them a better option. Started in 2016 with a $1 million grant through the Bloomberg Philanthropies Mayors Challenge, the program offers residents small loans they can use not just for business purposes — as with other common microlending programs around the world — but also to buy food, pay utility bills, or take care of other everyday expenses. Borrowers make weekly payments and have three months to pay off the loan at a monthly interest rate of just 0.91 percent. (Bancuadra means "the world's smallest bank" in Spanish.)
A critical component of the program is that borrowers are required to form "trust networks" of five to 10 friends, family, or colleagues. Each trust network member receives an initial sum of about $62 and can't take out another loan until all members have settled up. That built-in accountability system for consumption loans—combined with weekly financial education classes — is part of what makes Bancuadra different from other microlending programs. After some initial struggles with low repayment rates, city leaders succeeded at nudging the repayment rate up to 97 percent.
"The group lending model is one of the key features and serves as a monitoring device for users of the program," said Diego Restrepo, one of three researchers from Medellín's EAFIT University who led the evaluation. "What people value most about the program is not just the training they receive on how to manage money or their personal finances, but also just being together with their neighbors and talking with them about the pressing concerns of daily life."
[Read: How Medellín is breaking the grip of illegal lending]
The researchers held focus groups with 70 participants and surveyed 373 more users of the program along with 276 non-users. Some of the key findings include:
Bancuadra significantly reduced borrowers' use of loan sharks tied to gangs. Only 10 percent of program participants said they resorted to taking out these illegal loans, compared with 24 percent of nonparticipants.
The program had a positive impact on borrowers' ability to save money. Among participants, 16.5 percent reported having savings, compared with 10.5 percent of non-users.
Access to safe lending boosted businesses — especially the informal shops and food establishments common in Medellín's neighborhoods: 69 percent of users reported improvements in their ability to stock their businesses, compared with 42 percent of nonusers.
"For people who don't have a credit history, this is a very important opportunity to be part of a program like this," said Pilar Alvarez, of EAFIT. "They don't have assets or formal employment that can serve as collateral for the loan. In this case, the trust group is the collateral." Ideally, Restrepo said, borrowers will use the program as a way to build credit history so that they eventually can go to formal banking institutions to take out loans.
To the city officials behind Bancuadra, the new research not only underlines the success of their work but offers insights for the program's next phase. With the conclusion of the Bloomberg grant, the municipality has decided to continue funding the program from its own budget.
Liliana Galeano, the initiative's director, said the next phase is likely to focus on engaging more women. That's because the research found that women in Medellín have much more of their incomes tied up in illegal loans than men do. Similarly, young people were found to be more vulnerable to illegal loans than older people and will be prioritized in the future. The researchers also mapped out which neighborhoods have the highest rates of illegal lending.
"These findings are like gold to us," said Galeano. "When we started this initiative we didn't have that data with a good study behind it. Now, we know where to focus."
Galeano said the next phase of Bancuadra will aim to partner with companies who want to make the borrowing model available to employees. In the future, the program may offer larger loans of up to $150, she said, and longer payback periods of perhaps four months. It also will emphasize financial literacy more. While the research showed that Bancuadra users gained knowledge about things like interest rates, Galeano said, more than half still don't know that there's a legal limit on how high interest rates are allowed to go.
"I want to double these numbers of Bancuadra users who understand what a usury interest rate is," Galeano said, "because this is the way they'll understand that borrowing from these criminal people is going to affect their life."
"The most important thing," she continued, "is that they are learning how to manage their incomes and save money."