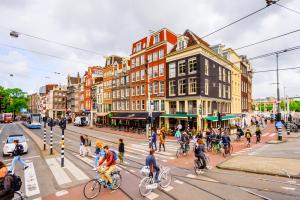 Next month, city leaders from across the globe will gather in Amsterdam to share ideas and bold thinking on how to address the world's biggest challenges. The Bloomberg CityLab summit, from October 9 to 11, will bring together global mayors alongside prominent city innovators, business leaders, urban experts, artists, and activists to discuss and discover solutions they can replicate and adapt. We spoke with several of the conference presenters—from Baltimore, Los Angeles, and Wellington, New Zealand—to get a preview of what's in store.
Resources for City Innovators
City leaders share lessons on how to be a better negotiator
Negotiation is a critical skill for all city leaders—not just the people who take on the big labor agreements or development deals. It's also a skill that every city leader can get better at. Bloomberg Cities caught up with participants from the program to find out how they've been putting what they learned to work on behalf of city residents.