Bloomberg Initiative for Cycling Infrastructure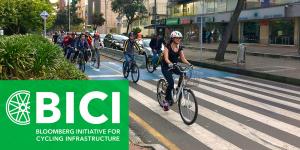 The Bloomberg Initiative for Cycling Infrastructure (BICI) is a competitive grant program that will foster catalytic change in city cycling infrastructure around the world.
Cycling is one of the healthiest, most efficient, environmentally friendly, and financially accessible modes of transportation available. Unfortunately, the lack of safe cycling infrastructure remains a major barrier for would-be cycling residents. In too many cities, cycling infrastructure remains disconnected, incomplete, and in need of innovation.
Led in partnership with the Global Designing Cities Initiative (GDCI), BICI will:
Fund ambitious cycling infrastructure projects by providing grants of $400k USD to $1M USD.
Refine project plans by connecting winning cities with world-class technical assistance from GDCI.
Implement projects and track progress by training city leaders on data collection, resident engagement and other industry best practices.

Connect cities with a global network of peers.
Application submissions were accepted on a rolling basis from November 10, 2022, to February 3, 2023. Selected cities will be announced in spring of 2023. Formal technical assistance and other program supports, including opportunities to convene and connect with other winning cities, will begin in the summer of 2023, and last for up to three years. For questions about the program, please email bici [at] gdci.global.