The Bloomberg Philanthropies City Data Alliance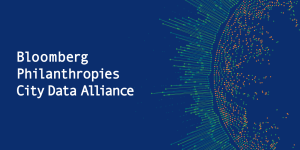 The opportunity to request an application has closed. Cities who indicated interest before the deadline have received application instructions via email. Spaces for this unique program, which will help your city supercharge its data capacity and deliver results for residents, are limited so

if you are in the process of applying,

please submit your application TODAY and no later than February 16th at 11:59pm EST (GMT-5).
About the Program
The Bloomberg Philanthropies City Data Alliance will identify 100 mayors that are the most sophisticated, ambitious, and advanced at harnessing data and help them set a new standard for local governments committed to using data to power better results for residents. Mayors in North, Central, and South America are welcome to join the second group of this initiative to take their data expertise to the next level. Participating mayors will receive a six-month acceleration program including executive education and individualized city coaching and consultation, as well as an up to 12-month investment to improve a critical data practice. Learn more about the Bloomberg Philanthropies City Data Alliance!
Read about Participating Cities