​
Grant to help mayors create 'innovation ecosystems'
A new federal grant program aims to turn more U.S. regions into high-tech economic hubs.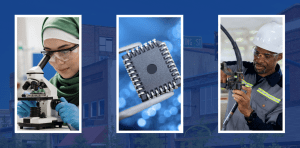 When Mike Bloomberg was mayor of New York City, he set out to build the next economy by combining the knowledge of academia, the entrepreneurial drive of the private sector, and the public mission of government. The strategy worked. Cross-sector collaborations hatched in New York gave birth to new innovation engines such as the Alexandria Center for Life Science and Cornell Tech, propelling dynamic economic clusters that continue to grow today. 
Now, cities across the United States have a big chance to catalyze their own regions' innovation ecosystems through a new grant program led by the National Science Foundation. Grants worth up to $160 million each are available as the federal government aims to develop new innovation hubs outside the nation's traditional tech centers.
Program leaders want to see proposals put forward by strong regional coalitions of state and local leaders, universities, businesses, and others working across jurisdictional boundaries toward a common vision for growing and sustaining an innovation ecosystem. And they are working with Bloomberg Philanthropies to help engage city leaders, who have unique convening power to bring key partners to the table, in this opportunity.
"Mayors and their chiefs of staff have a very good sense of who the right people are in each of these regions to be involved," says Daniel Goetzel, Entrepreneurial Lead for the National Science Foundation's Regional Innovation Engines Program. They know "who should be around the table, and who should bring in capital to help leverage this application." 
The new grant opportunity was announced earlier this year and written into law in the CHIPS and Science Act signed by President Biden in August. The goal, Goetzel says, is to "expand the geography of innovation to more people and places across the country." Over time, new regions are expected to become leaders in industries of the future, spinning out companies, building talent pipelines, and developing capital networks in a self-sustaining cycle. 
There are two types of grants for local leaders to know about. 
One is an award of up to $160 million, meant for regions to launch their innovation ecosystem over 10 years. "It's intentionally a long runway," Goetzel says, "because we recognize that especially in some of these deeper technology areas, it takes a long time. And we structure the dollars in a very flexible manner so that regions can use it however they see fit." The National Science Foundation will make as many as five of these awards, and the final submission deadline is Jan. 31, 2023. A second round of awards is anticipated in the future.
The other awards are as many as 50 planning grants of up to $1 million. These are intended to enable regions to lay the groundwork for their innovation ecosystems by, for example, building partnerships and establishing governance models. The hope is that successful grantees will be well positioned to apply for the larger grants in the next round of funding. The final submission deadline for these grants is just a few weeks away—Sept. 29.
For city leaders who are just now hearing about these opportunities for the first time, it's important to know that other stakeholders in their regions may already have proposals underway. More than 700 concept outlines have already been submitted—you can find them on a map here and use this data tool to identify and connect with project leads and figure out how best to partner with them. 
This transparency in the proposal process is unusual—and strategic. The aim is to deepen regional collaborations by surfacing plans that local leaders and other potential partners may not already know about. "Putting sunlight on it early is critical," Goetzel says. "With other large-scale grant programs, you might find out after you submitted that five other teams in your backyard all submitted in the same topic area—and that you all could have been working together all along."
For mayors, getting involved in a National Science Foundation grant process may also seem unusual, as that's more typically the domain of university researchers. Goetzel says this program is a very different model, with broader aims, such as building wealth in communities that historically have been left behind. 
"It's very intentional to have mayors and elected officials meaningfully at the table from the start because we're not just trying to solve for research questions—we're trying to solve for problems in your region," Goetzel says. "You have to be co-creating this. You need to be meaningfully involved in order to be competitive. And mayors need to be thinking about this regionally—innovation doesn't end at the city line."