COVID-19 has changed daily life for people around the world and required that cities do more with fewer resources than ever before. Yet, even in the face of a public health crisis, social unrest, massive budget shortfalls, and mounting climate disasters, mayors are innovating and taking bold steps to tackle their cities' most pressing challenges.
The 2021 Global Mayors Challenge is the farthest reaching, most ambitious to date. After uncovering the 50 most innovative urban solutions in the wake of COVID-19, the Challenge will award 15 grand prize winners $1 million each—to help cities implement their breakthrough ideas and, ultimately, to spread those ideas to other cities on a global scale.
Apply Now
Who is the program for?
The 2021 Global Mayors Challenge is open to all cities with populations greater than 100,000 residents. All eligible cities must RSVP to the competition and submit a completed application no later than 21 March 2021.
What makes a great idea?
The Mayors Challenge is looking for the 50 leading urban innovations that were imagined or launched in the wake of the COVID-19 pandemic. These ideas can be in any stage of implementation, but must have the potential for meaningful impact, and the ability to spread to other cities.
What can cities win?
This year's Global Mayors Challenge, which is our biggest yet, will give 50 champion cities access to world-renowned experts in innovation and data to help them improve upon their idea. Fifteen grand prize winners will then receive $1 million each to begin the implementation of their breakthrough ideas.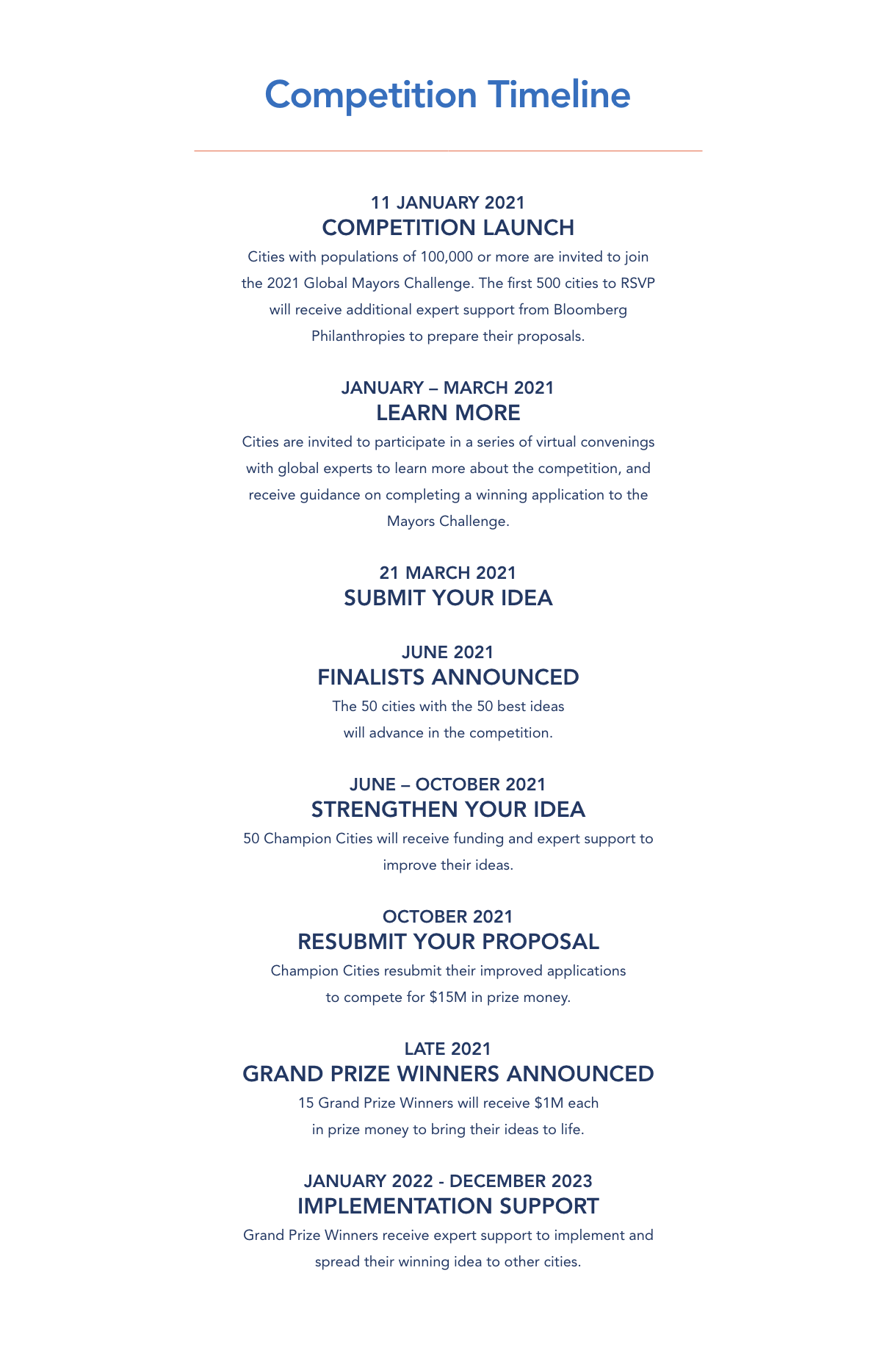 For the world's mayors, these are uniquely challenging times. James Anderson, head of Government Innovation programs at Bloomberg Philanthropies, explains how this year's Mayors Challenge is responding.
Read More
Looking Back
More than 1,000 cities participated in four previous rounds of the Mayors Challenge. Learn more about who won, and the impact they created, in this infographic.
Learn More
Frequently Asked Questions
How many applications can each city submit?
Each city can submit only one application, representing a single idea.
What makes a great idea?
The Mayors Challenge is looking for solutions to the major challenges of today – or tomorrow. Specifically, we seek ideas that are bold, have the potential for meaningful impact, can be successfully implemented, and have potential to spread to other cities.
Does my idea have to solve a specific problem or issue?
Cities are invited to submit ideas that address one or more of four overarching themes:
Health & wellbeing – Addressing the medical, behavioral, and social determinants of health for residents
Climate & environment – Tackling the root causes and effects of climate change in order to build more livable and resilient cities
Economic recovery & inclusive growth – Creating systems and solutions that allow all city residents to overcome economic distress and thrive
Good governance & equality – Using city powers to tackle oppression, promote fairness, and improve participation
Does my idea have to be brand new?
We know that the events of 2020 required cities to quickly re-imagine services in order to meet residents' needs.  Because many cities have already begun working on innovative new solutions, we are accepting proposals in any stage of development for the very first time, and will work with cities to improve and help them better deliver their transformative ideas.
What if my city doesn't win?
All cities that participate in the 2021 Global Mayors Challenge will have access to: an unparalleled network of peers also working on bold, new ideas to share lessons learned, data, and support one another; world renowned experts in innovation, data, and subject matter from across the Bloomberg network; and bespoke technical assistance and training to help teams test, learn and refine their ideas.
Do I have to RSVP to participate?
Does my city have to submit the application online?
Yes, all cities are required to submit their idea through an online application. Eligible cities are required to RSVP to access the application.
Will the competition be offered in multiple languages?
Yes. The 2021 Global Mayors Challenge will be offered in five global languages: English, Spanish, French, Portuguese, and Arabic. Finalists and winners will receive materials, tailored curriculum, and coaching in one of these languages.
Contact
For more information, contact mayorschallenge [at] bloomberg.org.