​
Engineering safe routes for children to get to school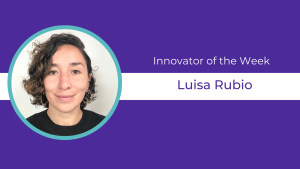 Para la versión en español, haga click aquí.
Title: Manager, Kids First
City: Bogotá, Colombia
Luisa Rubio is a transportation engineer whose job has little to do with building roads, bridges, or things made of concrete. Rather, what she engineers every day in Bogotá is safe routes for children to walk and bike to school together in caravans.
One program she manages is Ciempiés—an innovative idea that won $1 million in the 2016 Bloomberg Philanthropies Mayors Challenge and has blossomed since. Rubio and her team organize groups of roughly 20 children ages 5 to 14 to walk to and from school together, along with two adults. Not only is there safety in numbers, but kids also play educational games along the way. A program evaluation found that 68 percent of parents believe Ciempiés is their children's safest transportation option for getting to school.
The program is growing. After starting in just one neighborhood with a handful of walking routes, Ciempiés now functions in six areas of the city, serving 1,650 students at 25 schools. In the beginning, the program had fewer than 20 staff to lead the walking caravans. Now, there's more than 90, made possible with about $630,000 in funding from the city's secretariats of education and mobility. Those staff are critical to building and maintaining families' trust in the program. "It's important that parents see the same faces each day, that there's consistency," Rubio says. "We pay a lot of attention to what the community is telling us so we can be attentive to their concerns."
Now, Rubio is working to spread Ciempiés to other cities who are interested in replicating the model. She's leading webinars for local leaders around the world to learn about the program (register here for an upcoming session) and has been counseling cities in Colombia, Brazil, and Argentina on how to adapt Ciempiés to other urban contexts. For Rubio, who's always wanted to combine her transportation skills with working with children and community, it's all a dream come true. "This is the most fulfilling job I've had in my life," she says.
Pro tip: "Make sure your objectives are measurable and that you are rigorous in collecting data. Being able to prove the impact of your project is critical to getting more people interested in it."