​
As Amazon burns, São Paulo pushes sustainable agriculture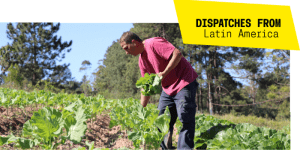 In the last of our summer-long series checking in with the Latin American winners and finalists of the 2016 Mayors Challenge, Bloomberg Cities visits São Paulo, Brazil to learn more about how the city is working to help farmers thrive in order to combat urban sprawl.
Clique aqui para ler em português.
Para la versión en español, haga click aquí.
While the fires ravaging Brazil are bringing new attention to the dangers of farming in the Amazonian rainforest, they also have the potential to shed new light on the importance of a project in nearby São Paulo, where the city is supporting a much more sustainable approach to agriculture.
As smoke darkens the skies above this city of 12 million, city leaders are working with farmers within the city limits to boost their yields, increase their incomes, and transition to environmentally friendly organic methods.
The effort is centered in Parelheiros, a vast rural district that lies just 25 miles from the bustling heart of Brazil's financial and cultural capital. More than 400 farmers here scratch out a living growing corn, lettuce, broccoli, cauliflower, chard, and other vegetables, as well as raising small animals.
São Paulo city leaders have come to appreciate how important this region of forests, reservoirs, and small-crop farms is to the city's future. The farmers of Parelheiros supply fresh produce to urban consumers who increasingly want to buy locally grown organic products. If these farmers can not only survive — but thrive — their farms can provide a bulwark against builders who have been pushing the city's sprawling urban edge ever further into the countryside.
That's why São Paulo launched a program called Ligue os Pontos, or "Connect the Dots," which was the grand prize winner in the 2016 Bloomberg Philanthropies Mayors Challenge.
The initiative matches farmers with agronomists hired by the project, who offer technical assistance on how to boost yields while eliminating use of artificial fertilizers and pesticides. The program has reached more than 60 farmers already and will soon extend to an additional 90. Already, 13 of these farmers have earned certification as organic growers, a credential that — along with the environmental upsides such as improved soils and water quality — can unlock bigger profit margins.
Emerson Souza, a farmer in Parelheiros for 22 years, welcomes the help. "Being a farmer in São Paulo is extremely difficult," he said. "Agriculture requires hard work and gives little money." After receiving assistance through the program, Souza is about to receive a certificate as an organic farmer. It's reignited his interest in continuing to make a living this way. "I was thinking of quitting and leaving agriculture, because working the land brings a lot of suffering," he said.
Ana Santos is newer to the fields. She left her job as a hairdresser seven years ago to start farming, and just received her organic certification. "We have agronomists that guide us and now it's much easier for us," Santos said. "It's wonderful. They help us improve our yield even more."
In addition to help adopting more sustainable practices, and improving properties' productivity, farmers (the ones who produce organics and others who use conventional techniques) also are getting help navigating the business and logistical sides of their trade. The city, in partnership with the producers' cooperative (Cooperapas), has built a refrigeration unit for farmers to store their products while awaiting shipment. A local cooperative helps them negotiate prices and coordinate distribution. And in the coming months, the program will introduce a web platform to match Parelheiros farmers with restaurants, markets, and other bulk food buyers in São Paulo. That way, a chef planning a new menu based on local ingredients can easily find nearby suppliers. Or a farmer about to harvest her crop can look for potential buyers.
At its heart, Ligue os Pontos is about strengthening connections between the city's urban core and its rural outskirts, according to program coordinator José Amaral Wagner Neto. Five years ago, São Paulo set a goal of containing expansion of the urban area, funneling new development back into the city in order to preserve natural ecosystems. To have any chance of success, Neto said, São Paulo needs a vibrant and productive farm economy that can resist pressure from the real estate sector.
"With the city's horizontal expansion, it was clear that the quality of life and the environment were being compromised," he said, adding that attempts to use land-use restrictions to stop sprawl weren't working and that "the only possible strategy" was to strengthen agriculture. A key byproduct of São Paulo's agriculture push is that city officials, for the first time, are now gathering agriculture data — who the farmers are, what they're growing, and where they'll selling their goods — to further support and build the sector.
One of the program's goals is to link organic production with the growing demand for organic goods. Brazil is now the world's fourth-largest consumer market of organic food, with demand growing at a 25-percent clip. "The demand is greater than our production capacity," Neto said. "It's important that people realize how vital it is to strengthen local products, and how much consumers in the city can help preserve the region." The famous Argentine chef Paola Carosella, a well-known judge on the Brazilian TV show MasterChef, often emphasizes the importance of buying organic vegetables from the city and is assiduous client of products from Parelheiros.
That educational push is critical for farmers like Souza. "It's a reality that isn't very valued. When people eat something organic, they don't think of what's behind it," said Souza. "People have to take care of the earth, people have to love the earth. We're offering natural food, without pesticides, that's important."
Read more stories in this series: