​
How Bogotá is making kids' commutes safer, educational — and fun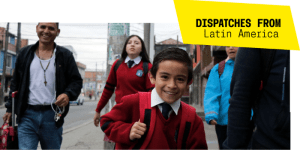 In the latest of our summer-long series checking in with the Latin American winners and finalists of the 2016 Mayors Challenge, Bloomberg Cities visits Bogotá, Colombia, to see the city's progress in making the walk to school safer, more fun, and educational for thousands of students.
Para la versión en español, haga click aquí.
For kids in the Suba neighborhood on the outskirts of Bogotá, Colombia, the walk to and from school can be exhausting and, at times, dangerous. They're among the 750,000 students in the city who depend on their own two feet to get to school — having to walk, on average, more than a mile in each direction on narrow sidewalks with little protection from the tumultuous traffic that surges through this city of nearly 8 million people.
"In a city of this size, a child's journey gets lost in the multitude of so many other problems," said Juan Pablo Bocarejo, the city's district mobility secretary. "They aren't safe or comfortable."
That's why, as part of the Bloomberg Philanthropies 2016 Mayors Challenge, city leaders came up with a bold — and winning — proposal: Find a way to make kids' commutes not only safe and comfortable — but also fun and educational. The result is a program that, even far from the streets of Suba, may change the way adults think about how children get to school.
At the heart of the initiative is a new twist on the idea of the "walking school bus," where children join adult guides at various pickup points, with the group swelling until there are dozens of kids walking together. On the return trip in the afternoon, it goes in reverse — with the group shrinking as the children peel off for home or pickup point.
But in Suba, the guides are more than escorts to and from school. They're also leading students in a series of microgames designed to raise awareness of their surroundings and even flex some math muscles.
Games include a version of "I Spy" called "Lynx Eyes"— where kids try to spot birds, flowers, or bicycles — and another called "Sounds Lottery" where they listen for sounds like a dog barking, music, or hammering. In "Steps Auction," the kids guess how many steps it will take to get someplace and then do the counting; other times, they solve math problems the guides shout out. Always, they are learning safety basics like looking both ways before they cross the street, red means stop, and green means go.
Through the journey, the kids score points, are rewarded with stickers, and mark their progress with badges they wear on their uniforms.
[Read: Why cities around the world should take notice of Santiago's fight against childhood obesity]
"The experience has been a lot of fun, the monitors are friendly, and we learn songs and the games are great," said 9-year-old Samuel. "Before, I used to walk alone with my mother. Now we learn as a group and I feel safer."
Parents and tutors are also part of the program. Many of them join the daily caravans and, just like their kids, are finding the experience valuable. "We have learned a lot of discipline, especially when it comes to respecting traffic signals and signs," said Alfonso Bustos, whose three children all participate. "I like the fact that children feel more protected and develop skills through the games they play. That's been very valuable for my family."
As Bogotá looks to scale up the program — from the current 14 schools and 623 students to 18 schools and 1,000 enrolled students by year's end — they're also exploring ways to move from a model that uses paid monitors to one that depends more on parent volunteers. Many of the parents have to work or have been hesitant to take responsibility for other people's children, however, so the project team is looking for ways to better engage them in the program's sustainability.
According to Bogotá Mayor Enrique Peñalosa, "The children are a sort of indicator. If we build a successful city for children, we will have a successful city for all people." Transformation, he added, requires steps big and small. And, the walking students in Suba are already proving every day, Bogota's kids are ready to lead the way.
Juan Paullier is an Uruguayan freelance journalist. He worked for the BBC for almost a decade as a correspondent in Mexico, Central America, and Venezuela and also at the London and Miami offices.
Read more stories in this series: