How the sharing economy helped one city tighten its belt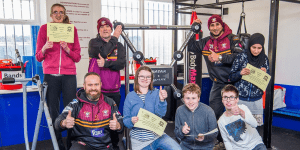 March 8, 2018
Why buy when you can borrow?
That's the idea behind Comoodle, the online-sharing platform launched by Kirklees Council in the north of England. The local government and community groups have listed thousands of items free for anyone to borrow, from a power washer to a paper shredder to a giant Jenga game.
Now a year old, Comoodle has brokered more than 750 trades among more than 600 groups and individuals registered to use it. By borrowing things — rather than buying or renting — users have saved more than $50,000, while making new connections within their community. In addition to stuff to borrow, individuals and organizations can list on Comoodle skills they have to offer, or space that can be used for community meetings or other events.
"It's been a great asset for people in our network," said Julie Stewart-Turner, a local councillor and community activist who chairs a network of volunteer groups. "It's a lovely way of people coming along and helping each other out and partnering locally."
Stewart-Turner is something of a Comoodle superuser. Before her organization's 20th anniversary celebration last year, she borrowed a sound system and traffic cones. For an upcoming community cleanup, she's hoping to borrow some litter pickers.
To Kirklees Council, these shares are more than mere transactions. They're part of building community strength at a time when severe cutbacks in government funding to localities is forcing the council to slash local services. As Kirklees Council has to shut down youth clubs and other facilities, it's looking to community groups to take custody of sports equipment, games, and other goods, and to make them available on Comoodle.
Outreach efforts such as a pair of recent "community giveaway" eventshave lined up more than a dozen organizations who use, manage, and share these assets on behalf of local government. These events grew Comoodle's asset base of things available to borrow by 10 percent.
"We have a mass of equipment with all the old youth clubs, and nobody wanted to throw it away," said Stewart-Turner, whose organization took custody of some soft play equipment. "It really complements the direction of the council at the moment," she continued. "We don't have lots of resources to help people now, so people need to learn to look after themselves and do more for themselves. And this is a great way to enable that."
For example, a local rugby club called the Batley Bulldogs became custodians of a lot of sporting equipment, such as trampolines and spinning bikes. The club can use the equipment for free, and opens the gym to the community during "active sessions," amplifying the reach of the sharing.
While the cuts to local services have been painful, the situation has in some ways been good for Comoodle, said project lead Duggs Carré. "Because we've already got a platform, a lot of the portable equipment we can recycle and keep moving as part of a community resource."
Carré said the site so far has exceeded its expectations, in terms of the number of users and the amount of sharing it's generating. And there's room to grow. While Comoodle has become well known among local community groups, Carré said, "there's massive potential in Kirklees alone to expand the traffic two-, three-, or four-fold."
Other cities in the area are taking notice. The city of York plans to join the Comoodle platform with a pilot starting in June. York intends to focus primarily on people sharing skills. The idea is to give residents a new pathway to volunteering.
"Our methods for linking people who want to volunteer to opportunities have become old hat," said Joe Micheli, who is working on the project for City of York Council. "We feel Comoodle, as a modern platform reflecting that explosion in sharing and the digital agenda, provides a new space to reimagine how we do it, with more of a focus on the skills volunteers have to offer."
Kirklees Council believes there is potential for other communities to build on Comoodle and adapt it to new contexts. According to Carré, there's not much competition in smaller communities. "Sharing-economy platforms tend to be most popular in the very big cities like London," Carré said. "But come north, and you see a lot less use of these things up here. We haven't got Uber in this town, and there's only a handful of Airbnb properties. People still tend to rely very much on their old-school networks, rather than the broader networks which you can access via technology."
In 2014, Kirklees was among five winners of the Bloomberg Philanthropies-funded Mayors Challenge with its idea for Comoodle. Last month, the foundation announced the 35 Champion Cities who are now prototyping their ideas as part of the 2018 Mayors Challenge.