Stream these: 8 city-focused podcasts for your playlist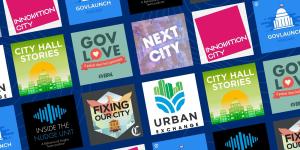 June 29, 2022
Podcasts are among the world's most quickly growing forms of media—by one set of estimates, more than 2 million exist around the globe, including 700,000 on iTunes alone.  
Local government innovation is the focus of a growing number of podcasts that highlight the progress in cities and, importantly, how creative, citizen-focused, and data-driven leadership is driving this change. One great example is Bloomberg Philanthropies' Follow the Data Podcast, which spotlights impactful solutions in the areas of government innovation, education, the arts, the environment, and public health.  
What follows is a small sample of some of the best of the many others that cover this terrain, locally, nationally, and internationally. See a previous list of podcasts we curated here; and please tweet us at @BloombergCities with suggestions of your own. 
Inside the Nudge Unit 
Who's behind it: The Behavioral Insights Team 
Where to find it: Spotify, Apple, Player FM 
Episodes of this podcast explore ways that applying insights from behavioral economics to policy can help move us toward a fairer society, by understanding more about how people behave in different circumstances. Drawing on the Behavioral Insights Team's work with governments around the world, topics explored in recent episodes include online fraud, peace-building, road safety, health inequality, combating sexual harassment and violence, and decarbonizing sectors like food, transport, and energy.   
The Next City Podcast 
Who's behind it: NextCity.org 
Where to find it: Spotify, Apple, Player FM 
Philadelphia's plans to launch a city-owned bank and Los Angeles' efforts to cool neighborhoods by painting streets with reflective coatings are among recent topics of this podcast hosted by Lucas Grindley, executive director at the solutions journalism website Next City. He hopes to "amplify solutions and spread workable ideas" by talking with innovators about their plans and successes in solving urban challenges that are typically glossed over.  
Urban Exchange: Cities on the Frontlines 
Who's behind it: Resilient Cities Network 
Where to find it: Resilient Cities Network, Spotify, Apple, Player FM 
This podcast focuses on the creative ideas and initiatives cities around the world are implementing to build environmentally, economically, and socially sustainable futures. The episodes feature conversations among city leaders about how to share ideas and solve vexing urban challenges. One recent episode featured Andy Foster, the mayor of Wellington, New Zealand, discussing "digital resilience" and the city's Mayors Challenge-winning idea to use a digital twin of the city to engage residents around planning for climate change.  
Govlaunch Podcast 
Who's behind it: Govlaunch Inc. 
Where to find it: Spotify, Apple, Player FM 
From the company that bills itself as the "Wiki for local government innovation," this podcast spotlights the efforts of local government innovators around the world to creatively solve the challenges they face, sharing successes, failures, and lessons learned. Recent episodes examined the use of public-private partnerships in Aurora, Ill.; how data sparked staff retention in Kansas City, Mo.; and the data-driven approach to addressing homelessness and the digital divide in Los Angeles.  
GovLove 
Who's behind it: Engaging Local Government Leaders (ELGL) 
Where to find it: ELGL, Spotify, Apple, Player FM 
GovLove examines innovative solutions to local problems through interviews with civil servants. One key theme: Examining how public-sector work can be made more attractive to the most talented potential employees. Recent episodes have examined how community partnerships in Tulsa, Okla., organized around American Rescue Plan Act funding, as well as the "case against zoning," as laid out by University of California at Los Angeles researcher and author Nolan Gray. 
Fixing Our City 
Who's behind it: San Francisco Chronicle 
Where to find it: SF Chronicle, Spotify, Apple 
Fixing Our City is a brand-new offering of a San Francisco Chronicle initiative aimed at finding solutions to persistent problems like homelessness, the opioid epidemic and widening income inequality. Host Laura Wenus and producer Cintia Lopez say this podcast will be a quest to understand these problems and look for answers, "one San Francisco story at a time."  
Innovation City 
Who's behind it: SLAM! Media 
Where to find it: Spotify, Apple, Player FM 
Innovation City features "innovators, disruptors and creators" who challenge "business as usual" and attempt to bring about systemic change that leads to a brighter future. Recent guests have included Matt Haggmann, executive vice president at The Beacon Council and leader of Opportunity Miami, talking about how to create a diverse, skilled workforce; Arturo Nunez, chief marketing officer at independent digital bank NuBank, discussing the art of storytelling, creating emotional ties, and making brands accessible to consumers; and Hector Mujica, head of economic opportunity at Google in the Americas, outlining how corporate philanthropy can drive change.  
City Hall Stories 
Who's behind it: Jack English 
Where to find it: Spotify, Apple 
Host Jack English, who works with the company ZenCity, talks to innovators in cities, towns, and counties about how they carry out their visions and strategies and try to build more efficient and effective local governments. "Almost everything we do on a regular basis is affected by local government decisions," he says. "This provides a massive opportunity for change, if we better understand how it works, and how to affect it." Recent interviewees have included Robert Clark, a former FBI agent who's head of public safety in Columbus, Ohio; Tommy Gonzalez, city manager of El Paso, Texas; and Meredith Reynolds, special deputy city manager in Long Beach, Calif. Reynolds talks about capturing the best community feedback, "when we come from a place of listening, without preconceived notions of what one might need."