Stream this: Podcasts for urban innovators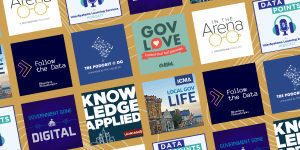 August 15, 2018
It wasn't until 2004 that the word "podcast" appeared in the dictionary. Yet, only 14 years later, there are more than half a million of these digital shows that listeners can download or stream on a regular basis. And good news for local-government innovators: A growing number of these programs are focused on the many ways city leaders are tackling urban challenges and working to create a more citizen-focused, data-driven, and experimental culture in city halls around the world.
Bloomberg Cities has one of these podcasts. Each month, James Anderson, who heads Bloomberg Philanthropies' Government Innovation programs, talks with different innovative mayors about how they're building core capabilities, engaging residents, and partnering across boundaries to get things done. You can find The Innovative Mayor series monthly in the Bloomberg Philanthropies "Follow the Data" podcast on iTunes, SoundCloud, or Stitcher.
Here are a number of other podcasts all city-government changemakers should add to their playlist. Don't see your favorite? Tweet us @BloombergCities with suggestions.
Government Gone Digital
Who's behind it: Dana Berchman, Chief Digital Officer of Gilbert, Ariz.
Where to find it: iTunes; Google Play; SoundCloud
Dana Berchman started Government Gone Digital as a way to share the new ways Gilbert was interacting with residents online. "I was getting a lot of requests from other cities for information and help," she said. Episodes cover a variety of topics, such as the "death of the press release" and how to use social media in government.
GovLove
Who's behind it: Engaging Local Government Leaders (ELGL)
Where to find it: iTunes, Google Play, Spotify
ELGL is a professional network that aims to "engage the brightest minds in local government" by celebrating public service and spreading good ideas. GovLove is an extension of that mission. According to Kirsten Wyatt, executive director of ELGL and a frequent host of the show, the podcast features "informative and unique stories about the work being done at the local level." Recent hit episodes include an exploration of "smart" sewers in Cincinnati and look at new ways to address equity in public parks.
Local Gov Life
Who's behind it: The International City/County Management Association (ICMA)
Where to find it: iTunes, Google Play
ICMA's Local Gov Life draws on its global memberships and features the stories of people from around the world who, according to Samantha Ferrigno, ICMA's senior manager of marketing and content, have "years of experience in getting things done." A recent season of the show focused on stories of crisis and resilience and included interviews with local leaders who have navigated natural disasters, the Ebola crisis, and a municipal bankruptcy. Another popular series, called "United Front," looked at how female managers tackled barriers they faced working in local government.
Data Points
Who's behind it: The Center for Government Excellence (GovEx)
Where to find it: The GovEx website
GovEx, a team of "proud data nerds" based at Johns Hopkins University, trains and supports local government leaders to use data to make informed decisions. The Data Points podcast, co-hosted by Deputy Director Sharon Paley and Associate Director Eric Reese, draws on real-world examples from the cities GovEx works with, including those it advises as part of Bloomberg Philanthropies' What Works Cities initiative. "Our mission is to tell stories and provide practical recommendations for people working in data and government," Reese explained. Recent episodes include one on how data is helping increase racial equity in Grand Rapids, Mich., and another on the ways data is driving culture change in Durham, N.C.
The Podcast @ DC
Who's behind it: The Lab @ DC
Where to find it: Soundcloud, iTunes
A team within Washington, D.C., Mayor Muriel Bowser's office, The Lab @ DC is a national leader when it comes to applying research and scientific methods to city policy and programs. Director David Yokum said the Lab's podcast "puts cutting-edge research in conversation with the bureaucratic realities of government" and "gets in the weeds on how to put science into action." Some episodes, like a recent interview with D.C. City Administrator Rashad Young, are largely focused on local issues. Others take on broader topics, like why intuition is a bad guide when it comes to judging a school, a teacher, or education policy.
Knowledge Applied
Who's behind it: The University of Chicago
Where to find it: iTunes
The University of Chicago's Knowledge Applied podcast looks "inside the research reshaping everyday life" and, in its first season, zeroed in on ways to make cities "healthier, happier, and more equitable places to live." The program is largely Chicago focused, but episodes such as "Smart Decarceration" and "The Psychology of Trees" will be of interest to those outside the Windy City.
In The Arena
Who's behind it: Governing
Where to find it: iTunes, Stitcher
Governing, a media platform covering state and local government in the U.S., has launched several podcasts city innovators may find interesting. The latest is In The Arena. Host Cathilea Robinett, president of Governing's parent company, interviews public officials about "courage, compassion and creativity in public leadership." Recent episodes featured the mayors of Dayton, Ohio, Columbia, S.C., and Los Angeles. Other Governing podcasts include The 23 Percent, featuring conversations with women in government, and Go Public, telling stories of "government getting it done."
Best of the Rest
Many mayors have taken to podcasting, using it as a tool to talk directly to their constituents or peers. For example, Chicago Mayor Rahm Emanuel has the Chicago Stories Podcast, and Louisville, Ky., Mayor Greg Fischer has his own self-titled show. Another interesting program comes from Ocilla, Ga., Mayor Matt Seale, whose Small Town Podcast features Seale's conversations with other small-town Georgia mayors.
Other podcasts tackle urban planning and other related issues: Jeff Wood's Talking Headways explores the intersection of transportation and development, while Charles Marohn's Strong Towns Podcast aims to spark conversations about "fiscal prudence and good urban design."
If you're looking for a more general-interest discussion in innovation and design, check out Innovation City, Innovation Crush, and 99% Invisible. And for insights on how to build a culture of innovation in your workplace, listen to Inside Outside Innovation.