​
10 women innovating local government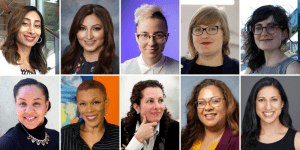 Whether it's addressing the many crises of the global pandemic or tackling preexisting challenges, female city leaders have been key to developing, executing, and scaling up some of the most impactful innovations of the past year. 
In honor of International Women's Day, we're celebrating 10 women who've made big strides for their communities.
Since becoming Dallas' first chief innovation officer last year, Laila Alequresh has been working to lift up the importance of using data to make decisions in City Hall. It didn't take long for COVID-19 to come along and show just how important that is.
At the beginning of the pandemic, Alequresh launched a COVID-19 dashboard to help the city be transparent with the public about the virus's impact. It's evolved into a comprehensive resource tracking key metrics for both the city of Dallas and the entire eight-county metropolitan area. "It's been a pretty powerful tool," she explains. "Not only for information linked to COVID but also for introducing the idea of dashboards to employees and the public." She says city program managers have reached out to her about incorporating dashboards to track their performance in other areas.
As dashboards grow in importance, so will the number of City Hall employees able to create them. In the coming weeks, Dallas will graduate its first two cohorts from the city's new Data Academy. Employees from different departments go through a curriculum that teaches them how to use spreadsheets, create data visualizations, and do light coding, among other skills. The goal is to build a common language across the city and make working with data something many people feel comfortable with, rather than just a few in-house experts.
While Alequresh builds a data ecosystem in City Hall, she's also building capacity by partnering with local and national universities. The inaugural cycle of the "data collaborative" has produced six projects for the city on topics such as predicting fire hazards, leveraging the analytics skills of students who get hands-on experience working on real local government challenges. Projects have varied from building risk models to data visualizations. 
"You really need to have a structure in place that will survive administrations, elections, budgets," Alequresh said. "Every city faces these challenges, so we're empowering as many people as we can to analyze data and support data based decision making over time." 
This story originally appeared in the Bloomberg Cities newsletter Spark on July 29, 2020.
Elena Bolbolian's first job with the city of Glendale came in middle school, when she worked clearing brush as part of a youth employment program. She's more or less stayed with the city for all 23 years since then, first supervising youth workers, then moving into a variety of analyst and management roles, and, three years ago, becoming the city's first chief innovation officer. 
One of Bolbolian's main goals is to spread an innovation mindset across City Hall. So she was thrilled that Glendale could join a new innovation training program offered by Bloomberg Philanthropies. Through it, she's leading a 12-person team, a mix of managers and frontline staff from seven city departments who she calls "positive-minded individuals." Together, they are learning how to use human-centered design to come up with innovative solutions to a state mandate to slash the amount of organic waste going to landfills.  
Without this team and the training, Bolbolian said, the search for solutions may not have gone beyond the city's recycling office. Now, there's a diverse team looking at the problem from very different angles, and engaging residents to develop and prototype ideas with them.
"What I hope will come of this is that these employees are learning a new technique," Bolbolian said. "And then once they're done with this problem, they'll go back to their departments and use this lens to look at new problems. And then I hope they'll never tackle it alone. They'll pull in other diverse stakeholders from other departments, and continue this process again." 
This story originally appeared in the Bloomberg Cities newsletter Spark on December 9, 2020.
Driving public-sector innovation is nothing new for Dinorah Cantú-Pedraza, who's trained hundreds of government leaders through her work at New York University's GovLab. Now, she's putting what she knows to work in San Pedro Garza García, a city of 123,000 near Monterrey. "I wanted to get my hands dirty," she said. "For public servants, it's a huge risk trying something new that no one has tried, to feel alone when people are resistant to change. That's why I moved here. I wanted to be the one that experienced the consequences of my ideas, for good or bad. I needed to feel it first hand."
One idea that has worked out for good is a chatbot that residents can use to request services by sending the city a text message; last week, the new tool won a national innovation award for government transparency. The chatbot works through WhatsApp, a messaging platform that is ubiquitous in Mexico. Residents can use it to report potholes, request help with food or medicine delivery during the pandemic, and more, and the offerings can change quickly as needs come up. Within two weeks of the service launching in February, the city was getting more service requests through the chatbot than were coming in through the city's call center — and the requests come in from poorer and richer neighborhoods alike.
"What's great is that the number of calls to the call center did not go down, so that means we're reaching a new public," Cantú-Pedraza said. City Hall "must go where residents are having the conversations. If those conversations are happening in WhatsApp, then we need to be in WhatsApp, and we need to make it super-simple."
This story originally appeared in the Bloomberg Cities newsletter Spark on October 28, 2020.
A few years ago, Petra Dzurovčinová suggested that Slovakia's capital city needed a separate department to drive innovation in city government, with the budget and staff necessary to produce results. As an active member of the local tech scene, she knew what it takes to turn ideas into real accomplishments. "When you don't have all these components, innovation is never a priority," she said. So when Matúš Vallo became mayor and asked her to start the office she'd imagined, Dzurovčinová jumped at the chance.
One of Dzurovčinová's projects she calls a "living lab" — it's a test bed for the city to try out new technologies or ways of solving problems before investing in them. The lab is currently experimenting with 600 small sensors to see if they could help the city enforce its new short-term street-parking policy by identifying how long cars have occupied a space. This test-and-learn philosophy is helping the city define exactly what problem it's trying to solve with the technology. "The city is approached with different offers from tech companies," Dzurovčinová said, "and if you don't know what problem you're trying to solve, there is no framework for saying yes or no." 
A second major focus is overhauling the ways residents access services online, a push that is accelerating through the city's participation in a Bloomberg Philanthropies initiative to help European capital cities improve their digital services. The city already makes it possible to pay property taxes, register a child for school, and do other tasks online, but few residents use the digital options. To fix this, Dzurovčinová's team is starting out by doing deep-dive interviews with residents and the front line city employees who interact with them to understand what they need before building solutions.
"Sometimes when you're working in City Hall, people say they have to do things a certain way because that is the way it's always been done," Dzurovčinová said. "We're trying to go back three steps and ask: 'Why not?'" 
This story originally appeared in the Bloomberg Cities newsletter Spark on July 15, 2020.
With a background in human-centered design, Emily Ianacone is used to working closely with the community and service-delivery workers to shape Baltimore's approach to problem solving. So when she went to work on the city's COVID-19 messaging on social distancing, she knew she'd need to tap into residents' knowledge. Early on, she and members of the city's Joint Information Center held a focus group with community leaders over Zoom. One participant from a predominantly African-American area spoke about how there's a culture of sharing things in her neighborhood — a generous quality in more normal times that poses risks of virus transmission now.
In response, Ianacone designed a simple graphic with three icons. Next to a cigarette, it said: "Don't Pass It, You Could Get It." Next to a water bottle, it said: "Don't Share It, You Could Give It." Next to two shaking hands, it said: "Don't Dap It, You Could Die." Focus-group members not only responded positively to the graphic but also volunteered to distribute 16,000 cards printed with it in their neighborhoods. 
"We're really working to make sure that our messages are very resident-informed," Ianacone said, "and working with credible messengers on the ground to disseminate printed materials." Ianacone and her team are also using social media to stay plugged into what's on residents' minds. As weather began warming up a couple of weekends ago and there was a lot of social media chatter about planning cookouts, she responded with a popular "yes/no" meme featuring the musician Drake. The message: It's OK to have a cookout with the people you live with, but don't invite all your friends and relatives. The post from the city's Health Department was widely shared and a local news station ran a story on it.
"We do a lot of social-media monitoring, just seeing what people are talking about online, seeing what they're sharing and liking," Ianacone said. "Knowing that we were trying to target a younger audience of people who were making plans on social media, we figured a meme would work."
This story originally appeared in the Bloomberg Cities newsletter Spark on May 20, 2020.
Diamond James was working as a designer and art director at The Washington Post in 2014 when a young African-American man named Michael Brown was shot by a police officer in Ferguson, Mo. The news moved her to switch careers. She wanted to be a more active agent of social change than she thought she could be at the newspaper. "I was trying to figure out how I could be more in touch with designing with people," James said. 
After earning a master's degree in social design, she returned to her hometown of Los Angeles to join that city's innovation team. As the team's civic designer, James' role before COVID-19 was focused on deeply engaging residents in problem-solving around the future of work. 
Since March, she's used her design skills to make the information flowing inside and out of city hall actionable. At first, that meant working with the mayor's communications staff to make sure social media graphics announcing new policies around things like wearing masks were easy for the public to understand. More recently, as the city makes preparations for a safe reopening, her goal is to make sure decision makers are working with the very latest public-health guidelines, and that choices they make are communicated down to staff without confusion.
"Internal decision making has its own user experience," James said. "We want to make sure that when word goes down from the mayor's office, all the way to the department-level worker, that it's clear what they're being asked to do."
This story originally appeared in the Bloomberg Cities newsletter Spark on May 6, 2020.
For those who've lost loved ones to the pandemic, the difficulty of holding or attending funerals has made emotional healing hard to come by. The cumulative loss — 238,000 dead in the U.S. alone — is also difficult to process. Detroit's Rochelle Riley came up with a powerful way for her city to remember and grieve — and, importantly, a way for them to do it safely. She first asked residents to send in photos of those they've lost to COVID. Then she used those 
photographs to make billboard-sized prints — 907 in all — that were posted along a two-mile stretch of roadway on Detroit's Belle Isle park. In August, Detroiters drove by the photos in a series of 15 funeral processions that, for many, was their only chance to say goodbye and get a sense of closure. "What I planned [was] a funeral as if I were planning it for one person," said Riley, who was friends with a number of people whose pictures were part of the display. "Everything that we would do for any funeral we would do for this funeral."
This story originally appeared in the Bloomberg Cities newsletter Spark on November 14, 2020.
Among public-sector innovation circles, Beth Simone Noveck is well known as the head of The GovLab at New York University, a hub of knowledge and experimentation in using technology to improve governance. Two years ago, Noveck put on an additional professional hat when New Jersey Governor Phil Murphy asked her to join his cabinet as the state's first-ever Chief Innovation Officer. 
Since then, Noveck has built a 17-person Office of Innovation tasked with improving the lives of residents by solving public problems in new ways. It's one of a number of state-level innovation teams — including those in California, Pennsylvania, and Rhode Island — that, along with an expanding network of City Hall innovation teams seeded by Bloomberg Philanthropies, are at the core of the expanding public-innovation movement.
Like many of the city-level teams, Noveck's shop brings innovation tools like data, experimentation, and resident engagement to bear in their many collaborations with partners in and out of government. For example, in researching policies related to the future of work, the New Jersey team used a high-tech crowdsourcing tool to generate ideas and feedback from thousands of residents. In their work to streamline the path for entrepreneurs to start businesses in the state, they deployed principles of human-centered design to make sure reforms are anchored in the experience and needs of the business owners themselves. They've also put together an "Innovation Skills Accelerator" training program for state employees, with online modules that are freely available for anyone anywhere to take online.
Bloomberg Cities caught up with Noveck to hear about her experiences in state government and what lessons her peers at the city level can take away from them.  
This story originally appeared in the Bloomberg Cities newsletter Spark on December 4, 2020.
When the pandemic suddenly put thousands of San Antonio residents out of work, Verónica Soto wanted to make sure they didn't also lose their homes because of unpaid rent or utility bills. Collaborating with other city leaders, she supercharged an existing housing assistance program with an infusion of $76 million, staffing help from libraries and other temporarily dormant departments, and a push to move a paper application process online. A program that previously received about 50 applications a week now has approved nearly 20,000 since April. Low-income residents are eligible to receive up to two months' rent and utilities paid through the program as well as up to $300 in direct cash assistance to help with other expenses. "It isn't a perfect system," Soto said, "but we had to move quickly because the need is so great."
This story originally appeared in the Bloomberg Cities newsletter Spark on November 14, 2020. 
Seattle is earning praise for its nimble response to Covid-19, and Tina Walha sits right in the middle of the action. She believes that getting things done quickly in a crisis like this one demands not only a just-do-it attitude but also an instinct to collaborate with partners outside City Hall.
For example, to solicit donations of respirators, gowns, and other personal protective equipment, Walha's innovation team built a simple online survey and circulated it with dentists' offices, private labs, and others. They then partnered with Goodwill Industries to serve as drop-off points and another organization for warehouse storage. The donations are now transitioning to state control so that equipment can be distributed where the greatest needs are.
"Innovation requires identifying unlikely allies that can help you accelerate impact," Walha said. "We worked in a really agile way to get the logistics figured out."
Walha is applying the same collaborate-quickly mindset to other problems, working with Microsoft to develop a data tool to monitor hospital capacity, as well as state government to iron out kinks in getting unemployment insurance checks out to residents quickly.
At a moment when local government has a million hairy problems to solve, Walha finds that one of the most valuable innovation tools is problem definition — working carefully up front to determine exactly which parts of different problems staff have the bandwidth to solve.
"What's helping to accelerate problem solving in this critical time," she said, "is getting clear on problem definition, working in a really agile way, and then getting the hell out of the way."
This story originally appeared in the Bloomberg Cities newsletter Spark on April 8, 2020.