​
Bringing a test-and-learn approach to City Hall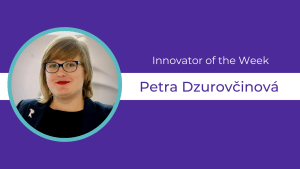 Name: Petra Dzurovčinová
Title: Chief Innovation Officer
City: Bratislava, Slovakia
A few years ago, Petra Dzurovčinová suggested that Slovakia's capital city needed a separate department to drive innovation in city government, with the budget and staff necessary to produce results. As an active member of the local tech scene, she knew what it takes to turn ideas into real accomplishments. "When you don't have all these components, innovation is never a priority," she said. So when Matúš Vallo became mayor and asked her to start the office she'd imagined, Dzurovčinová jumped at the chance.
One of Dzurovčinová's projects she calls a "living lab" — it's a test bed for the city to try out new technologies or ways of solving problems before investing in them. The lab is currently experimenting with 600 small sensors to see if they could help the city enforce its new short-term street-parking policy by identifying how long cars have occupied a space. This test-and-learn philosophy is helping the city define exactly what problem it's trying to solve with the technology. "The city is approached with different offers from tech companies," Dzurovčinová said, "and if you don't know what problem you're trying to solve, there is no framework for saying yes or no."
A second major focus is overhauling the ways residents access services online, a push that is accelerating through the city's participation in a Bloomberg Philanthropies initiative to help European capital cities improve their digital services. The city already makes it possible to pay property taxes, register a child for school, and do other tasks online, but few residents use the digital options. To fix this, Dzurovčinová's team is starting out by doing deep-dive interviews with residents and the front line city employees who interact with them to understand what they need before building solutions.
"Sometimes when you're working in City Hall, people say they have to do things a certain way because that is the way it's always been done," Dzurovčinová said. "We're trying to go back three steps and ask: 'Why not?'"
Pro tip: "Listen to your users, and test out the solutions you build. Then prototype, redefine, and do it again. With digital services, it should never be 'launch it and it's done.' You always need to work on it."