​
Building a data ecosystem in Dallas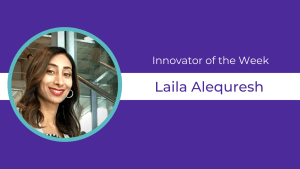 Name: Laila Alequresh
Title: Chief Innovation Officer
City: Dallas
Since becoming Dallas' first chief innovation officer last year, Laila Alequresh has been working to lift up the importance of using data to make decisions in City Hall. It didn't take long for COVID-19 to come along and show just how important that is.
At the beginning of the pandemic, Alequresh launched a COVID-19 dashboard to help the city be transparent with the public about the virus's impact. It's evolved into a comprehensive resource tracking key metrics for both the city of Dallas and the entire eight-county metropolitan area. "It's been a pretty powerful tool," she explains. "Not only for information linked to COVID but also for introducing the idea of dashboards to employees and the public." She says city program managers have reached out to her about incorporating dashboards to track their performance in other areas.
As dashboards grow in importance, so will the number of City Hall employees able to create them. In the coming weeks, Dallas will graduate its first two cohorts from the city's new Data Academy. Employees from different departments go through a curriculum that teaches them how to use spreadsheets, create data visualizations, and do light coding, among other skills. The goal is to build a common language across the city and make working with data something many people feel comfortable with, rather than just a few in-house experts.
While Alequresh builds a data ecosystem in City Hall, she's also building capacity by partnering with local and national universities. The inaugural cycle of the "data collaborative" has produced six projects for the city on topics such as predicting fire hazards, leveraging the analytics skills of students who get hands-on experience working on real local government challenges. Projects have varied from building risk models to data visualizations.
"You really need to have a structure in place that will survive administrations, elections, budgets," Alequresh said. "Every city faces these challenges, so we're empowering as many people as we can to analyze data and support data based decision making over time."
Pro tip: "Times of crisis are when innovation, creativity, and thinking outside of the box are needed more than ever."