​
A City Hall lifer looks to spread innovation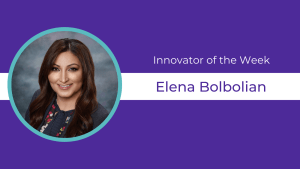 Name: Elena Bolbolian
Title: Director of Innovation, Performance and Audit
City: Glendale, Calif.
Elena Bolbolian's first job with the city of Glendale came in middle school, when she worked clearing brush as part of a youth employment program. She's more or less stayed with the city for all 23 years since then, first supervising youth workers, then moving into a variety of analyst and management roles, and, three years ago, becoming the city's first chief innovation officer. 
One of Bolbolian's main goals is to spread an innovation mindset across City Hall. So she was thrilled that Glendale could join a new innovation training program offered by Bloomberg Philanthropies. Through it, she's leading a 12-person team, a mix of managers and frontline staff from seven city departments who she calls "positive-minded individuals." Together, they are learning how to use human-centered design to come up with innovative solutions to a state mandate to slash the amount of organic waste going to landfills. 
Without this team and the training, Bolbolian said, the search for solutions may not have gone beyond the city's recycling office. Now, there's a diverse team looking at the problem from very different angles, and engaging residents to develop and prototype ideas with them.
"What I hope will come of this is that these employees are learning a new technique," Bolbolian said. "And then once they're done with this problem, they'll go back to their departments and use this lens to look at new problems. And then I hope they'll never tackle it alone. They'll pull in other diverse stakeholders from other departments, and continue this process again."
Pro tip: "Share early. In government, we often don't want to reveal what we're working on until we think we have it all figured out. Putting out an early version and getting feedback helps you move faster."