​
6 lessons cities can learn from New Jersey's cutting-edge innovation team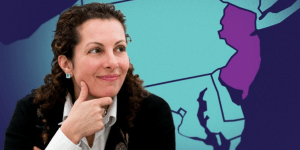 Among public-sector innovation circles, Beth Simone Noveck is well known as the head of The GovLab at New York University, a hub of knowledge and experimentation in using technology to improve governance. Two years ago, Noveck put on an additional professional hat when New Jersey Governor Phil Murphy asked her to join his cabinet as the state's first-ever Chief Innovation Officer.
Since then, Noveck has built a 17-person Office of Innovation tasked with improving the lives of residents by solving public problems in new ways. It's one of a number of state-level innovation teams — including those in California, Pennsylvania, and Rhode Island — that, along with an expanding network of City Hall innovation teams seeded by Bloomberg Philanthropies, are at the core of the expanding public-innovation movement.
Like many of the city-level teams, Noveck's shop brings innovation tools like data, experimentation, and resident engagement to bear in their many collaborations with partners in and out of government. For example, in researching policies related to the future of work, the New Jersey team used a high-tech crowdsourcing tool to generate ideas and feedback from thousands of residents. In their work to streamline the path for entrepreneurs to start businesses in the state, they deployed principles of human-centered design to make sure reforms are anchored in the experience and needs of the business owners themselves. They've also put together an "Innovation Skills Accelerator" training program for state employees, with online modules that are freely available for anyone anywhere to take online.
Bloomberg Cities caught up with Noveck recently to hear about her experiences in state government and what lessons her peers at the city level can take away from them. Here are six things she's observed that city innovators everywhere can learn from.
Innovation flows from both the top-down and bottom-up. Like city-level chief innovation officers situated in their mayor's office, Noveck's position within Governor Murphy's cabinet gives her authority to ensure that innovation remains a priority. Some of her team's projects, like streamlining processes for businesses, come straight from the governor's office. Others trickle up from agencies seeking her team's expertise on their own projects.
Whether work flows from the top-down or bottom-up, her team has the latitude to sit at the table with big departments like Health, Human Services, and Labor and see where their skills can help. "Because I report to the governor, it allows us to insert ourselves in a lot of different processes," Noveck said. "I can talk to commissioners about what their needs are and where we can help."
[Get the latest innovation news from Bloomberg Cities! Subscribe to SPARK.]
Collaboration is a skill. It's almost cliché that agencies need to work closely with each other and with partners outside of government to solve problems. But getting people to share insights, talent, data, and resources "is not always self-evident and is actually a learned set of skills," Noveck said. "Collaboration really is something we need to train to know how to do effectively."
Of course, the same thing is true at the city level. Having an innovation team to coordinate partners in a collaboration and keep them focused on common goals can help, Noveck added. "Everybody comes to a collaboration with different goals and self-interest in mind," she said. "Having somebody who's responsible for that coordination and can ensure that the public interest remains front-and-center helps ensure the project is not only efficient but also legitimate from the eyes of all the people participating."
Scope projects carefully. Noveck takes inspiration from an award-winning San Francisco program called Civic Bridge. It taps into the city's vast private-sector tech talent by creating opportunities for volunteers to work part-time alongside city workers on critical problems. The key to doing that effectively, Noveck said, is to carefully scope the projects and define the work volunteers will do so that they can get lots done in the eight hours or so they have to devote to it each week.
Noveck's team in New Jersey takes the same tack. For example, when COVID-19 hit New Jersey hard back in March, they marshalled a legion of volunteers to build a pandemic information hub in just a few days. Through a partnership with the Federation of American Scientists, residents could get answers to any technical questions they had about the virus or how to avoid it. A parallel volunteer pool of 75 university students helped residents find answers to questions related to government services.
"Volunteer capacity is out there, but it's not as simple as just taking all comers," Noveck said. "You really need to have somebody who is helping to scope and define projects and define what tasks volunteers are there to do."
[Read: Chief innovators come of age]
An innovation team requires all types. The talented team Noveck is building in New Jersey comes from all levels of government and the private sector. But what really stands out, she said, is the variety of skills they bring.
"They include technologists, designers, and policy professionals, and all of them have project or product management ability," Noveck said. "In other words, they have the ability to take something from an idea to implementation. That's paramount to our being successful. If we were just a technology team, it wouldn't be enough. What makes us an innovation team is our ability to focus on solving problems, to get stuff done, and to use all the tools in our toolkit.
"Sometimes that's tech, or the ability to stand up a website. Sometimes it's the ability to use a dataset. Sometimes it's the ability to say we need a new policy in place. Sometimes it's the ability to know how to communicate. It would not work if we had one tool or one skillset in our portfolio. It's the combination."
Public participation is approaching a 'tipping point.' For years, Noveck has argued that governments must use technology to improve lawmaking by tapping the public's collective intelligence — a concept she calls "crowdlaw." She's now testing out a version of this called SmarterNJ.
One such consultation invited state employees to not only submit ideas for improving state government, but also vote on those submissions and craft implementation plans for the leading ideas. Another, tied to a Future of Work Task Force that Noveck chairs, asked workers throughout the state to share the ways technology and economic shifts are changing their jobs and career prospects. About 4,000 residents submitted responses, feedback that is informing the task force's policy recommendations.
"The task force has a lot of great experts on it," Noveck said, "but we wanted to hear from the true experts — the workers who are the ones who know best whether a robot is taking over their job or not."
What surprised Noveck the most, she said, is how welcome state government leaders have been to hearing the public's ideas in this way. She thinks these kinds of broad, tech-enabled public consultations are about to become much more common at all levels of government. "We're at a tipping point with citizen engagement," Noveck said. "Now, it's still one-off experiments. Five years from now, we're going to see this become the new normal in how we do things."
[Read: How to make innovation capacity stick around for the long haul]
Borrow from others — and share your work. When Noveck's team built a web portal for entrepreneurs to better understand how to set up and grow a business, they talked with innovators in Los Angeles and San Francisco who had created similar tools. They were able to take advantage of not only what those cities had learned but also software code, which they borrowed to build business.nj.gov.
Likewise, after they built the state's COVID-19 information hub, Noveck's team shared their work with peers in Alabama, who customized it to fit their needs. "You'll notice the two sites look remarkably similar," Noveck said, "because, again, we shared back. Whether collaboration runs between cities, or states, or cities to states, we're all working in the public interest."