​
Collaborating quickly in a moment of crisis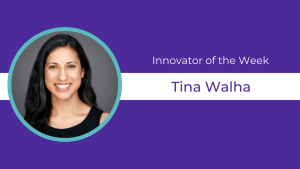 Name: Tina Walha
Title: Director, Innovation & Performance
City: Seattle
Seattle is earning praise for its nimble response to Covid-19, and Tina Walha sits right in the middle of the action. She believes that getting things done quickly in a crisis like this one demands not only a just-do-it attitude but also an instinct to collaborate with partners outside City Hall.
For example, to solicit donations of respirators, gowns, and other personal protective equipment, Walha's innovation team built a simple online survey and circulated it with dentists' offices, private labs, and others. They then partnered with Goodwill Industries to serve as drop-off points and another organization for warehouse storage. The donations are now transitioning to state control so that equipment can be distributed where the greatest needs are.
"Innovation requires identifying unlikely allies that can help you accelerate impact," Walha said. "We worked in a really agile way to get the logistics figured out."
Walha is applying the same collaborate-quickly mindset to other problems, working with Microsoft to develop a data tool to monitor hospital capacity, as well as state government to iron out kinks in getting unemployment insurance checks out to residents quickly.
At a moment when local government has a million hairy problems to solve, Walha finds that one of the most valuable innovation tools is problem definition — working carefully up front to determine exactly which parts of different problems staff have the bandwidth to solve.
"What's helping to accelerate problem solving in this critical time," she said, "is getting clear on problem definition, working in a really agile way, and then getting the hell out of the way."
Pro tip: "Stay humble, hustle hard."