​
Enabling clear decision making in a fast-moving moment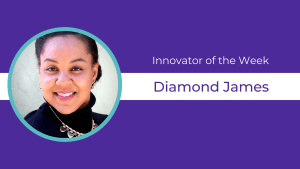 Name: Diamond James
Title: Civic Designer
City: Los Angeles
Diamond James was working as a designer and art director at TheWashington Post in 2014 when a young African-American man named Michael Brown was shot by a police officer in Ferguson, Mo. The news moved her to switch careers. She wanted to be a more active agent of social change than she thought she could be at the newspaper. "I was trying to figure out how I could be more in touch with designing with people," James said.
After earning a master's degree in social design, she returned to her hometown of Los Angeles to join that city's innovation team. As the team's civic designer, James' role before COVID-19 was focused on deeply engaging residents in problem-solving around the future of work.
Since March, she's used her design skills to make the information flowing inside and out of city hall actionable. At first, that meant working with the mayor's communications staff to make sure social media graphics announcing new policies around things like wearing masks were easy for the public to understand. More recently, as the city makes preparations for a safe reopening, her goal is to make sure decision makers are working with the very latest public-health guidelines, and that choices they make are communicated down to staff without confusion.
"Internal decision making has its own user experience," James said. "We want to make sure that when word goes down from the mayor's office, all the way to the department-level worker, that it's clear what they're being asked to do."
Pro tip: "Designers often have their own ways of talking and tools, but when we speak the language of our colleagues in local government we can do more working together."