Putting equity at the heart of a city's local arts scene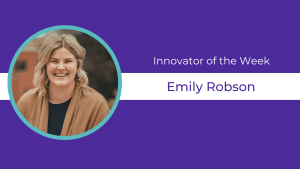 August 17, 2022
Name: Emily Robson 
Title: Manager of the Arts and Creative Industries team 
City: Kitchener, Canada 
In city halls, any and all systems and programs can be used to advance equity. In Kitchener, Canada, for example, city officials see their creative arts and industries portfolio as a vehicle to increase the diversity of arts patrons as well as helping drive the success of more diverse arts practitioners. 
Emily Robson, who manages the arts and creative industries team in Kitchener, has been using the lessons she learned in the Bloomberg Harvard City Leadership Initiative's collaboration track to jumpstart an effort to increase participation and entrepreneurial activity in the city's arts scene by putting equity at the heart of the effort. 
Robson says equity wasn't the initial focus of the team's efforts; the goal was supporting more artistic entrepreneurs in the city and identifying any additional ways that the arts could be an economic driver. But as they began working down the "spine" of the problem, equity emerged as a crucial factor. "Maybe it seems obvious now, but we really kind of recast our thinking about it to be clear that equity's at the absolute center of all of these challenges," she says. "If we can start to redress or bring specific attention to these issues of equity, we feel like that's going to actually move us toward solving or better addressing this complex problem." 
And it was the complexity of the challenge that the Bloomberg Harvard experience has helped to make more manageable, Robson says. Using a tool known as the "fishbone diagram tool," the team tried to narrow the focus of their problem solving away from the overwhelming complexity of systemic racism to specific areas where they could begin to make a difference. 
The diagram helped to visually reinforce the idea that "there are no silver bullets in any of this stuff. It's all a suite of activities or tasks or interventions that we're taking together as a community," Robson says. 
Among the initial entry points for the Kitchener team is beginning to gather more complete data on who is getting large grants and using the city's cultural spaces and analyzing how culturally representative those patterns are of the city as a whole. 
To break that down even further, they looked at the bookings for one city theater and experimented with various changes to see if they drove a more diverse set of arts groups to use it. The team had hypothesized that simply lowering the cost would be enough, but found that a variety of other factors, including the level of staffing provided by the theater, was making it unattractive for smaller, more culturally representative groups. 
The team also wants to create a "resource navigator" for area artists so more people can be aware of the opportunities available. "If you're already part of the city cultural scene, it can seem very transparent, but if you're not, it can be terribly opaque," Robson says. 
Pro tip: "Trust the process—create the most diverse team possible and trust that you'll be able to do the work of coming to a shared understanding."