​
Practicing 'guerilla resident engagement' tactics in Calgary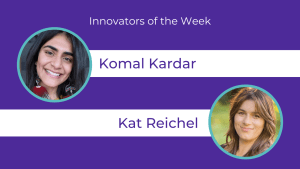 It's not every day you see a parked car turn into a whiteboard that people walking down the street can scribble ideas on. 
But that's exactly what happened in Calgary in July. It was just one eventful turn in an unconventional resident engagement strategy cooked up by city leaders Komal Kardar and Kat Reichel.
Kardar works in city hall as a consultant who helps business units with their equity, diversity, inclusion, and belonging efforts. And Reichel works as a designer in the city's Innovation Lab. Both have been playing leadership roles on a cross-departmental team of a dozen city employees participating in Bloomberg Philanthropies' Innovation Training program.
That team came into the program with a challenge to address: finding ways to make Calgary a more appealing place for young adults to live. Through the training, they're learning how to use human-centered design to understand how residents aged 18 to 30 feel about it. They're also developing and testing out new ideas alongside these residents to see what works. 
This summer, the team got busy with "ideation." That's a step where young adults were asked to come out and share their ideas for how to make Calgary more vibrant. To start, they held a fairly traditional public feedback session downtown at the city library. The turnout wasn't bad—more than two dozen youth showed up—but Kardar and Reichel were concerned that they weren't necessarily reaching a diverse cross-section of the target age group. 
"We got excellent feedback," Kardar says, "but it felt like we were engaging with people who are already connected to the city. We needed to move to spaces where we're talking to Calgarians without asking them to come to us. We needed to be where the community is."
That's when Kardar and Reichel came up with the idea for what they called, tongue-in-cheek, "guerilla resident engagement." The plan: to bust out of the usual places to host public meetings and go right out into the street. They mobilized colleagues to fan out across the city and catch young people where they'd never expect to interact with their local government: at a skate park, at the YMCA, in the queue to enter a popular rodeo and music festival.
At one busy corner downtown, a staffer blasted hip hop music from her white sedan and gave young people passing by whiteboard markers. She invited them to write their ideas for how to make Calgary more vibrant—More outdoor events! More benches!—right on the car. (Don't worry: The ink washed off.)
One issue the young people raised a lot was improving transit safety. So Kardar and Reichel went out to a train platform popular with students. They'd approach people when the next train was still 15 minutes or so away, introduce themselves, and pick up loads of ideas on the spot. They found that generally speaking, people don't mind at all being engaged this way when they're standing around waiting for something like a train to show up. In addition, being on-site for these conversations, as opposed to in a conference room or on Zoom, added texture to the ideas.
"If you're on the platform and talking about how do we make transit more safe, they can look around and point to things," Reichel says. "There's no lighting here. There's not a lot of people on this carriage, and that feels dangerous. They're in the physical space and able to ideate about what's around them."
Kardar and Reichel are the first to admit the strategy wasn't perfect. Some ideas the team picked up this way were more surface-level than they might have heard in settings where residents have more time to think. They also had to be careful, even on the fly, to comply with Canadian privacy laws around collecting personal information. And the strategy didn't eliminate the critical need to conduct other forms of targeted outreach, like meetings Kardar held with nonprofits who work with disabled and indiginous residents. 
But they're pleased with the results of their resident-engagement experiment, and would recommend their colleagues in other cities try out similar tactics.
Pro Tip: "It's easy to center the process around us, rather than the residents themselves," Kardar says. "But if we are always operating from that lens, are we really connecting with the community?  It can be uncomfortable to go out in the community, just going up and talking to people. If we want to be equitable, we have to do those things."