Bringing residents deeper into decision making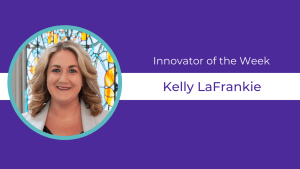 May 18, 2022
Name: Kelly LaFrankie
Title: Division Manager, Innovation
City: Cincinnati
Last year, the Cincinnati City Council passed an ordinance requiring the city to create a community engagement plan for all departments, boards, and commissions, with an eye to bringing residents deeper into local decision making.
Now, a team of city leaders participating in Bloomberg Philanthropies' Innovation Training program is working to make sure that underrepresented voices have a big say in that plan. Kelly LaFrankie serves as innovation lead on the team, which is not only demographically diverse but also includes job titles from directors to frontline workers at ten city departments. 
They've started out by conducting in-depth interviews with residents and other stakeholders, meant to understand their perspectives at a deep level. LaFrankie says the interviewing process itself has been a breakthrough. 
"The interviews were a big learning point for many individuals on the team—not just in what we learned but in the functionality of interviews as an innovation tool," LaFrankie says. "The idea that we're not aiming to get any specific information out of you, we just want to understand your experience. And exercising that muscle of not trying to engage in the interview in a way that immediately starts solutioning for the problems that might be mentioned."
The interviews produced several insights for the team. One is the importance of creating more pathways for community voices to be heard and acted upon. One resident LaFrankie interviewed, an immigrant who speaks English as a second language, identified litter as the top thing she'd like city government to address. That problem was followed by speeding drivers and making it easier to obtain a photo identification card. 
"Photo ID was on my radar going into the interview, but I would not have guessed litter as her top priority," LaFrankie says. "That's why it's so important to get out and talk to people in the community. In government, our assumptions—and our tendency to think we know what the problem is—can be our biggest roadblock to doing well-informed work that really meets the needs of the community."
The team's other big insight from interviews is the need to build in community engagement feedback loops. When residents give city leaders their input, they want to know how it's affecting policy and budget choices. "They feel like they're speaking into a black box," LaFrankie says. "It's clear that they don't know where to go to find out what happened next."
Over the coming weeks, the Cincinnati team will take these learnings and sit down with residents to come up with specific ideas for how to improve community engagement. Later, they'll test prototypes of those ideas with residents, and then refine them based on the feedback. "We're excited to get back out in the community and start the ideation phase and collaborating with our residents," LaFrankie says. "We want to show them that we're action-oriented, that we want to improve, and that we want them at the table with us as we do that work."
Pro tip: "When you think you have enough diverse voices at the table, add at least one more. Every additional voice you add brings more value to the discussion."