Making City Hall a force for change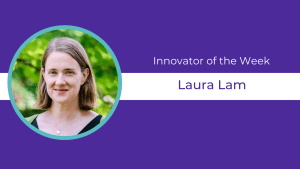 April 20, 2022
Title: Deputy City Manager
City: Kalamazoo, Mich.
When Laura Lam started her career, she worked as a community organizer in Chicago who had to fight City Hall's cutbacks in mental health services. At the time, she says, she saw local government as part of the problem—a force more likely to do harm than good.
Lam's perspective later shifted when she took on city roles in San Jose, Calif., and then in Kalamazoo, where she has worked for almost 13 years. She found she could use her organizing instincts as a force for change by bringing residents more deeply into local decision-making. 
"My belief as a community organizer, and the belief I still hold now," Lam says, "is that I'm most effective at making change happen by helping people find their voice, helping to mobilize, and then making change happen."
Lam brought that mindset to bear several years ago when Kalamazoo updated its master plan. She set out to "embed community vision into every single system" in the plan, in a process that went on to engage 4,000 residents over 18 months. A huge vote of confidence in that vision came last year when an anonymous donor gave the city's Foundation for Excellence a $400 million gift to, among other things, help pay for its implementation.
"It's not just a one-and-done plan," Lam says. "It's about ensuring our community that we're in this relationship for the long haul. We're going to keep listening. We're going to keep talking. We're going to keep doing — together."
Now, Lam is serving as the innovation lead for a Kalamazoo city team that is going through Bloomberg Philanthropies' Innovation Training program. The team has a problem to work on—figuring out how to better keep sidewalks clear of snow in wintertime—and they're learning how to use methods of human-centered design to co-create solutions alongside residents. The team includes a mix of City Hall's in-house experts in snow clearance, as well as a diverse array of leaders from other departments who aren't experts on the issue but who, Lam says, have a "fire in their belly" to change the way the city solves problems.
The team is just getting started, but already, they're having breakthroughs in how they're defining the problem of snow removal, identifying stakeholders to interview—and seeing how they'll come up with better solutions by slowing down to engage residents at every step.
"The biggest insight so far is to spend time understanding the problem," Lam says. "In local government, we often use urgency as a justification for jumping over listening, jumping over research, jumping over trial-and-error, just to get to a solution. But we're not solving problems any faster if we get to half-baked solutions."
Pro tip: "Dare to dream. Don't let a lack of power or existing limitations stop you from imagining the world as it should be, and figuring out how to get there."