Innovating an end to food insecurity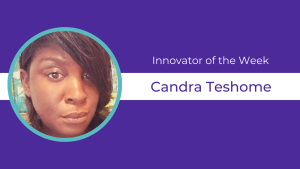 May 26, 2021
Name: Candra Teshome
Title: Planning and Zoning Liaison
City: Savannah, Ga.
Candra Teshome knew about food deserts, but when she began working on a project to tackle the issue she did something most civil servants might never think to do: ditched her car on a Sunday morning to understand the issue from the perspective of the residents she's working for.
Teshome's primary job is as a zoning administrator for the city of Savannah, but she's also part of an 11-member, multi-department team that's participating in a Bloomberg Philanthropies innovation training program and is focusing on food insecurity issues, specifically what's commonly called "food deserts." She prefers the term "food apartheid" because deserts are "a naturally occurring phenomenon."
The project allows Teshome to do the kind of results-oriented, resident-facing work that she loves. "I like being able to shape policy, and the ability to enforce what exists on the books and be able to discover ways that can be corrected for future generations," she said. "I also enjoy being able to see my work on the street, literally."
Teshome has served a dual role as project director and land-use expert for the effort, which has targeted the west side of Savannah, where 14 U.S. Census tracts qualify as food insecure. "The Bloomberg program has been a great tool in helping us as a team to do the public planning process," she said. "Being able to cooperate with other departments and get their perspectives on solutions to this problem has been invaluable."
Teshome's training in human-centered design was put to use with her decision to try to see the issue through the eyes of those affected by walking and using public transportation to assess the lack of nutrition resources in the area. The team recently held ideation sessions for participants to prototype how to solve this multifaceted, service-oriented challenge. One possible solution: building a network of community gardens on interconnected lots that the city either already owns or could purchase, Teshome said.
"Every lot has a microclimate—even at the back of the yard vs. the front of the yard, vegetables are not going to grow the same way," she said. "We would put out a seasonal map, showing where citizens can grow different vegetables [most successfully]."
The project participants also are analyzing from a geospatial perspective all the barriers that prevent people from accessing healthy foods, Teshome said. "If a resident lives across the street from a major grocery store but can't get there because she is disabled, how do we minimize those barriers?" she said. "We're also talking about putting out a recipe book and coming together at different grocers to provide the items in a kit."
Pro Tip: "Include a diverse number and range of residents during the ideation and design processes, to get a broader diversity of ideas that affect people in different situations. Include those who may have physical impairments, people from an older generation, people from a younger generation, people who have children."