Engaging residents to build a green economy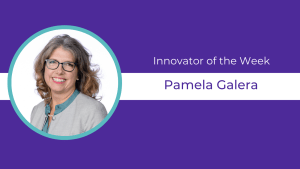 April 13, 2022
Title: Director of Parks, Recreation and Community Services
City: Riverside, Calif.
Creating a green local economy is a major long-term goal for the city of Riverside. That goal recently got a big boost when the California Air Resources Board opened a new Southern California headquarters in the city to handle research and testing of next-generation clean vehicles.
Now, Pamela Galera is leading a team inside city hall tasked with finding innovative ways to build on this momentum. As part of the Bloomberg Harvard City Leadership Initiative's innovation track, Galera's team is working with residents and others in the community to identify opportunities to support green businesses and co-create programs to do it.
Galera's team is drawn from departments across City Hall—not just ones typically tasked with sustainability or economic growth. To get started, they've identified key stakeholders to collaborate with, including residents, business leaders, and researchers from the city's four universities. Next, they'll engage these stakeholders in wide-ranging interviews meant to give the team a deeper, more multifaceted understanding of the issues than cities often get through public feedback processes.
"We've learned a lot about how to interview," Galera says—and especially, how to listen. "We know that we are not the experts and that is why we are reaching out to green businesses, schools, and residents," she says. Later, Galera's team will identify insights from these interviews, develop ideas for new programs to prototype residents, and ultimately, pilot some new initiatives related to growing green jobs.
Helping businesses to adopt sustainability practices in their own operations is also a priority. Galera says Riverside wants to help revive the city's Green Business Network, a "program to facilitate and acknowledge local businesses transition, mitigation and adaption for climate change."
Galera hopes to have a roadmap by next fall on how to build this green economy and help Riverside achieve its goal of achieving carbon neutrality by 2040.  She surmises that it will not only include training and jobs, but also the infrastructure to support it, such as housing, manufacturing, and changes to local food production and consumption.
"We're early in the stages," Galera says, "but I can only imagine that we will have a multi-pronged approach." 
Pro tip: "Completely, truly listen. Bring yourself to the table, bring your experience, bring your knowledge—but really listen, absorb, and understand."