Engaging a wider community in sustainability efforts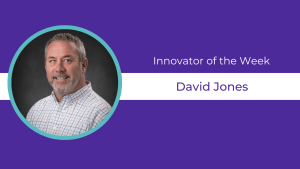 September 14, 2022
Title: Sustainability Officer
City: Glendale, Calif.
Soon after David Jones became Glendale's sustainability officer about a year and a half ago, he joined the city's team in the Bloomberg Philanthropies innovation training program.
Jones was excited for the program's opportunity to learn all about human-centered design. He didn't know much about how it worked. But he'd heard that it was a good way to get more residents deeply engaged in developing city solutions. And that was high on his agenda in the city's sustainability efforts.
"We're lucky to have a very vocal community that comes to speak to us about environmental sustainability issues, but they don't represent the whole of Glendale," Jones says. "This human-centered design approach struck me as a way to understand how we can engage our wider community in sustainability efforts."
Through the training, Jones and about a dozen other Glendale staffers learned how to interview residents to more deeply understand their needs, how to bring residents into idea generation, and test prototypes with them. This co-creation work, which was focused on the problem of reducing food waste in the city, fed directly into the program Jones is developing now to get more unused food from restaurants and supermarkets into the hands of hungry residents.
Recently, Jones tapped into this strategy again, in partnership with Glendale Community College. Two dozen students taking a class in human-centered design spent a semester grappling with a challenge Jones tossed them: how to engage underrepresented communities in developing Glendale's new climate action and adaptation plan. 
The Community College partnership yielded Glendale numerous benefits. One was accessing the energy of young people to develop ideas around using technology and social media. Another: one of the students went on to snag an internship in the city's innovation office, giving the city's growing capabilities around using human-centered design another boost.
"Getting students to do this seems like an absolute ideal thing," Jones says. "Sustainability is very important to this cohort. But they don't always get involved in politics. For them to be able to see how a city's working to try and address these issues represented a really good learning opportunity for them. And it was very refreshing for us to get their take on city government."
Pro tip: "Don't assume you know what your constituents want."