​
Replicating Denver's successful air-quality monitoring program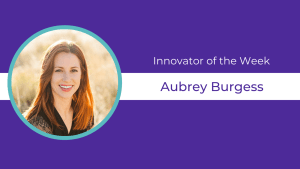 Title: Love My Air Program Lead
City: Denver
In 2018, Denver won $1 million in the Bloomberg Philanthropies Mayors Challenge with an idea to track and disseminate real-time data on air quality outside schools. The goal was to empower students with respiratory conditions like asthma to make informed choices about, say, whether to go outside for recess.
Aubrey Burgess led the outreach with principals, teachers, and parents that brought 40 public schools into the program, called "Love My Air." Now, she's leading the program's replication in cities elsewhere. It's a ripe time for that: With $50 million in federal funding available through the American Rescue Plan, cities across the country have been reaching out to learn from Denver. "It's an exciting time to be in this field," Burgess says.
One thing she tells them: While the program brings air sensors and a flashy TV monitor to display real-time data in schools, there's a lot more to Love My Air than stats on partculate matter. There's also loads of programming to engage school communities. Some schools have cracked down on drivers idling their vehicles in drop-off and pick-up zones, with students designing anti-idling signage or even handing drivers educational flyers like they're tickets. Others have woven the sensor data into the STEM curriculum or designed experiments for students to test homemade air pollution filters. More on these strategies is available in Denver's Love My Air replication toolkit.
Another important lesson, Burgess says, is to listen closely to how each school community defines its needs. Some are concerned about climate-change impacts of air pollution. For others, the biggest thing is children's health. "It's really important to build strong foundations with community members where you understand where they're coming from and what their needs are," Burgess says. "The program is designed to be replicable, but there's also a lot of room for customization depending on what the needs of the community are."
In fact, as other communities replicate Love My Air, they are bringing it into different contexts. In Colorado, the Tri-County Health Department has launched its own version of the program in libraries, parks, and recreation centers. Other communities are thinking about air quality at elder care facilities and in locations where people work outdoors. Cities are able to license the Love My Air logo and program materials for free; in exchange, they must agree to share back what they're doing and learning so that the residents of more and more municipalities can benefit and grow the field.
"It's exciting to see cities use our materials," Burgess says, "and we will have a lot to learn from our partners as they develop their own programs."
Pro tip: "Listen to the community to inform how programs are shaped. What do they need? What are they concerned about? And how can we do a better job serving them? It's about really working to bring them along on the journey as opposed to just 'doing outreach.'"