​
Boosting services for the homeless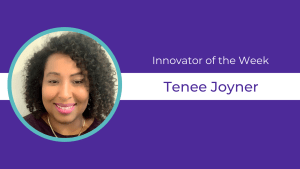 Name: Tenee Joyner
Title: Program Coordinator, Department of Health & Human Services
City: Paterson, N.J.
Like many communities across the nation, Paterson, N.J., faced a crisis with caring for the homeless during the COVID-19 pandemic. And like a growing number of city leaders across the country, Tenee Joyner, a program coordinator in the city's Department of Health & Human Services, knew that fully understanding homeless people's experiences was critical to finding a solution.  
 
A 22-year veteran of city government, Joyner was part of a citywide team tapped to respond to a sudden lack of beds and shelter for the city's homeless population as many area faith-based shelters either closed their doors or sharply limited bed space to allow for social distancing when the pandemic hit. 
 
As part of that process, her team leveraged insights they gained as part of a Bloomberg Philanthropies-funded innovation training program to interview shelter residents and staff, among others, to better understand what homeless residents needed most. "Bloomberg helped us to organize the information," Joyner says. "It helped us in learning how to work together, even wearing different hats, in different departments."
 
The effort has already led to several service-boosting initiatives, including one where the city is upgrading its "warming centers" to create a Homeless Hub, where clients can drop in at any time and staff can determine what shelter would fit their needs best. The hub will have mailboxes and lockers and be "a place where we can build a relationship, and start offering services," Joyner says.
 
This focus on human-centered design has been a game-changer for the city, Joyner says. "There's no other way to look at it," she says. "Someone may say, 'I don't need you to give me food; I need you to help me get a Social Security card. I need my birth certificate because I was offered a job but can't get it.' It's not us interjecting our privilege into how someone can get services. It's actually asking someone, 'What do you need? How can we do this better?'"
Pro tip: "Include the people you're serving in the design. They're the experts. If you bring them into the conversation, they feel like someone sees them, like someone is trying to help them."