​
Using innovation techniques to address youth homelessness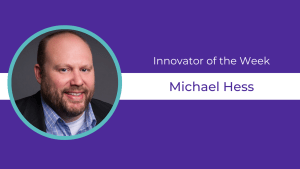 Name: Michael Hess
Title: Director of Future-Ready City Initiative 
City: Orlando, Fla.
As director of an Orlando initiative to prepare the city's future as a center of innovation, technological advancement, and resilience, Michael Hess often works on tech-related initiatives such as leveraging advanced sensors and adapting to automation.
But future-readiness is not just about technology, Hess believes. It's also about how the city cares for its most vulnerable residents. That's why he's excited to be part of a team of city leaders that is participating in Bloomberg Philanthropies' Innovation Training program. Together, they are innovating around the job of ending youth homelessness.
A report from the Central Florida Commission on Homelessness found that there were 268 unaccompanied youth between the ages of 13 and 24 in Central Florida. Of that number, 57 percent were male, 40 percent were Black and 35 percent were LGBTQ+.
In the innovation training, Hess joins together with leaders from the police, parks, housing, finance, and other departments to learn how to use human-centered design to solve problems. They're starting by interviewing different stakeholders, including homeless youth and service providers, among others, in an effort to understand the problem from the perspective of those experiencing it. 
"One of the things we've learned is to take our time in the research phase, slow down a little bit, and not try to solve everything right away," says Hess, who is a mechanical engineer by training.  "Don't even think about solutions at the beginning." 
One thing they've learned is that more young people experience homelessness at some point than is widely understood. "It doesn't always show up in our counts, because they don't register for services," Hess says. "They're not actually out on the street. They're just couch surfing, or staying with friends, or getting a hotel with friends."
Next, Hess and the Orlando team will take what they've learned in their research, and sit down with stakeholders to think of ways the city and its partners can help. Later, they'll prototype some of these ideas and develop the most promising ones into programs or services that can be piloted. Hess and his colleagues hope to use this process again to tackle other problems, and continue to build an innovation culture across City Hall. 
Pro Tip: "Innovation is not one person at the top saying, 'thou shalt innovate.' It's a team approach."