Putting 'boots on the ground' to gain a deeper understanding of residents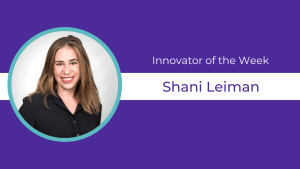 March 17, 2021
Name: Shani Leiman
Title: Innovation Team Director
City: Bat Yam, Israel
Shani Leiman leads an unusual innovation team in Bat Yam, a densely settled city of 130,000 on the Mediterranean coast. She's the only full-time member of the team. The other six team members—all full-time staff from other city departments—each spend eight hours a week with the i-team. Leiman likes how it works. "The way it's built," she said, "allows innovation to get integrated into different departments in the city."
For their first project together, the team is investigating ways to improve cleanliness in public spaces. They settled on this after analyzing complaint data from the city's customer service center. To drill down for a deeper understanding, they're going out in teams of two to public parks and streets to observe how residents behave—where they leave coffee cups behind, say, or flick a cigarette butt onto the pavement. They're also conducting in-depth interviews with 40 residents who can show exactly what they mean when they say the street is "dirty."
"Is it because of dog waste, a broken bench, or maybe just the sidewalk is dark because it's old?" Leiman said. "In order to understand what bothers people, we had to go out into the field, put boots on the ground, and ask them to point it out."
Soon, the team will synthesize their findings and develop solutions that they'll prototype with residents. Along the way, they're getting coaching through Hazira, an Israeli initiative supported by Bloomberg Philanthropies to accelerate civic innovation in a dozen municipalities. Bat Yam is one of the first four cities to join the program; a second cohort of four new cities was announced last month.
"It's amazing," Leiman said of the Hazira mentors, who are themselves veterans of innovation teams in Tel Aviv and Be'er Sheva. "We get top professionals teaching us how to do this."
Pro tip: "Be open minded and on the hunt for opportunities within the organization where you can try to bring innovation methodologies in through the side door."