​
A community innovator moves inside city hall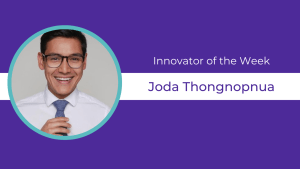 Name: Joda Thongnopnua
Title: Chief of Staff to the Mayor
City: Chattanooga, Tenn.
As a veteran of philanthropy, journalism, and the nonprofit advocacy world, Joda Thongnopnua has had a 360-degree vantage point of city government from the outside. 
Last year, he decided to take that experience and try to make change from the inside, taking the role as chief policy adviser and then chief of staff to Mayor Tim Kelly in Chattanooga, Tenn. 
A participant in the Bloomberg Harvard City Leadership Initiative, Thongnopnua says his past roles at the Community Foundation of Chattanooga and the Metro Ideas Project, a nonprofit policy research startup, laid the groundwork for the job he's now doing as a city leader. "I think that my previous work really prepared me well for the approach that Mayor Kelly has taken at the city of Chattanooga, which is to really make sure that localism is at the root of the work that we do," he says. 
At the center of that work at the moment is an ambitious $100 million affordable housing initiative announced by Kelly earlier this year, more than half of which will be funded through a public-private partnership with local philanthropy, credit unions, banks, and private investors. "Designing that was really an acknowledgement that the affordable housing crisis requires a scale of resources that we had had not previously committed as a community, especially with the per unit cost going up," Thongnopnua says. 
That type of multi-partner approach is also a big part of the city's strategy for spending federal infrastructure funds with a focus on equity and intersectionality. "A good example is we put together a grant proposal for a bridge, but we realized it was about much more than a bridge," Thongnopnua says. "How do you connect this historically disadvantaged community to our river walk? How do you connect our logistics and supply chain hubs to each other? How do we create a better sense of public safety?" 
Thongnopnua says the most difficult part of his transition to the public sector is how slowly things sometimes move. He knows from working as a partner with city government in the past that many of the rules and regulations that slow work down are there for good reasons. At the same time, he agrees with the sense of urgency Mayor Kelly preaches. 
"Local governments are having to really rethink the way that they do business on a day-to-day basis," Thongnopnua says. "Mayor Kelly has made really clear that we've got an obligation to make sure that we've got our foot on the gas, because a lot of folks are hurting and, and depending on us as a community." 
Pro tip: "How many partners can you align on a project? The longer that list is and the more folks that are at the table, the more effective those projects are going to be."