How to collaborate through a crisis: Expert tips for city leaders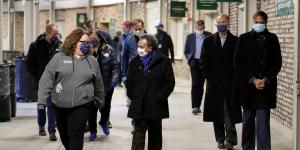 April 20, 2020
For mayors, the Covid-19 crisis is a tangled web of wicked problems, any one of which can easily lead to conflict. Strong disagreements can enmesh mayors, council members and other stakeholders within local, state and federal governments. Stakeholders across communities will differ about how long local economies should stay shut down to prevent spread of the virus.
If mayors are finding the experience distressing and stressful, Harvard University's Dr. Howard Koh notes that conflict always accompanies the job of public leadership, even during the best of times. Koh observed for mayors at last week's online coaching and training session of the Coronavirus Local Response Initiative that in these "crucible experiences, all the issues of conflict and relationships get escalated in dramatic fashion."
At the same time, Koh said, crises like the Covid-19 outbreak present unexpected opportunities for mayors to collaborate with new partners and reinvigorate partnerships with existing ones. Koh, who previously served as Massachusetts Public Health Commissioner and as U.S. Assistant Secretary for Health under President Obama, pointed to the current wave of federal stimulus dollars as an opportunity to collaborate with governors and state health officials.
Koh offered mayors four keys to collaborating in a crisis:
1. Work to understand other perspectives. The first step is recognizing that others always hold different beliefs, opinions, and values. It's up to mayors to work hard as a leader to understand them. Approaching the situation with empathy, Koh said — especially in a time of genuine sacrifice and suffering — can go a long way to building trust.
It's also critical that mayors engage people directly affected by the crisis, whether it's health care workers, grocery store employees, or nursing home residents. "Leadership," he said, quoting authors James Kouzes and Barry Posner, "is the art of mobilizing others to want to struggle for shared aspirations."
[Get the City Hall Coronavirus Daily Update. Subscribe here.]
2. Use your convening power. Crises have a way of bringing together new and often unlikely allies. Koh recalled working as state health commissioner during the post-9/11 anthrax crisis, when letters filled with white powder were flooding the country. To his great surprise, he found himself working closely for the first time with leaders of the U.S. Postal Service. "They became tremendous new and unexpected allies in that time," he said. "When I look back, I cherish it greatly."
Mayors are uniquely situated to make the most of this moment. They enjoy a convening power that is likely unparalleled in their communities. And because this crisis touches practically every resident, new coalitions and partnerships are waiting to be built. "Use this difficult time to discover new unexpected allies and leverage those relationships," he said.
3. Empower your teams to be innovative. The scale of the problems cities are facing now — strained hospitals, mass unemployment, broken food supply chains — call for ambitious solutions. Mayors and their co-collaborators need to challenge their own assumptions in a time of no easy answers, Koh said, and broaden their usual perspectives. "Can you encourage each stakeholder to join you in seeing the big picture?" he asked. "Taking a systems approach is what you naturally do as a mayor and leader —other stakeholders may never have considered doing so. If you can push everybody to take that big, systems approach, it's a big win."
Another key is staying proactive. That can be hard to do in government on the best of days, and much harder when a pandemic demands an immediate response. Still, carving out even just an hour for teams to look ahead and envision opportunities can stimulate big ideas, Koh said. "The superstar hockey player Wayne Gretzky, when asked why he was so successful in his career, simply answered 'I skate to where the puck is going, not to where it has been.'"
4. Use data and storytelling to celebrate wins. When collaborations yield results, Koh said, it's important to celebrate the win, share the credit, and tell the story with transparency and a sense of vulnerability. Using data can be helpful here, he said, pointing to how New York Governor Andrew Cuomo always starts his daily briefings with graphs and charts of where things stand with Covid-19.
"In the beginning, I'm sure it was very difficult for him to be so transparent about these numbers when they were going in the wrong direction," Koh said. "Now that things appear to be heading in the right direction, both for New York State and the country at large, he can show that the system is working to protect people."
There's nothing easy about collaboration in a crisis, Koh said. But if mayors work even harder to understand the concerns of others, aim for mutually satisfying solutions, and reframe adversity to create new meaning, they can emerge from their crucible experiences even stronger and more committed to their values and community than ever before. "It's about bringing people together, and it's a struggle," Koh said. "But if you do it well, everybody can struggle together to want to reach for higher aspirations."
Read more takeaways from Dr. Koh's presentation to mayors here.
See slides from Dr. Koh's presentation to mayors here.