​
8 new books for urban innovators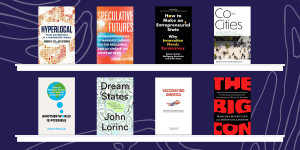 Looking for a long read to ignite new thinking about how to solve problems in cities? Check out Bloomberg Cities' latest list of new books for urban innovators. Whether you're looking for leadership lessons, tips on engaging residents in new ways, or simply finding inspiration to dream bigger, there's a book here for you. 
By Jennifer S. Vey and Nate Storring
Every city is the sum of its smaller parts: the neighborhoods, business districts, and local institutions that anchor daily life for the people who live and work there. Here, Jennifer S. Vey of the Brookings Institution and Nate Storring of the Project for Public Spaces examine the ways these places within cities are governed and managed—and in some cases exacerbate inequalities. They aim to "provoke new thinking about how, why, and for whom place governance matters, and highlight practices and models for creating more connected, vibrant, and inclusive communities."
By Johanna Hoffman
While the sci-fi cities of Marvel films don't exist in real life, urbanist Johanna Hoffman says there's much we can learn from imagining if they did. Science fiction is one form of "speculative futures," a concept from the design world that Hoffman says city leaders can use to challenge status-quo thinking and engage residents in a fresh dialogue about what they want their city to become. There are other tools beyond sci-fi. Hoffman describes how sniffing what dirty air in 2050 might smell like helped convince ministers in the United Arab Emirates to invest in clean energy. "Speculative futures can be really helpful ways of provoking conversation," Hoffman says. "It's about reframing problems from asking 'What is the issue?' to 'What is possible?'" 
By Rainer Kattel, Wolfgang Drechsler, and Erkki Karo
You don't often hear "bureaucracy" and "innovation" in the same sentence. But public innovation professors Rainer Kattel, Wolfgang Drechsler, and Erkki Karo argue that they go hand-in-hand when public-sector organizations are wired to create, fund, regulate, and procure innovations. To show how, they look back to the late 1800s to tell the story of the German agency that played a key role in the development of quantum physics. And they find contemporary examples of "innovation bureaucracies" in Sweden's Vinnova and the U.K.'s Government Digital Service.
By Sheila R. Foster and Christian Iaione
Nearly a decade ago, Sheila R. Foster and Christian Iaione were part of a groundbreaking effort in Bologna, Italy, to rethink the governance of the city's public spaces, using "collaboration pacts" to give groups of residents, nonprofits, and others, responsibility for care and upkeep of anything from park benches to abandoned buildings. Here, the authors look at this and similar collaborative governance models in more than 200 cities around the world, identifying a common framework for "co-city" approaches that bring residents into local problem solving in innovative new ways.
By Geoff Mulgan
In a world with big problems, Geoff Mulgan sees a crisis of imagination undermining the search for solutions. Here, Mulgan, a professor at University College London, calls on political leaders, academics, social innovators and other problem solvers to recharge their abilities to imagine a better future and provides a framework for how to do it.
By John Lorinc
Google's controversial and eventually aborted effort to turn part of the Toronto waterfront into a "smart city" test bed is the jumping off point for this book by journalist John Lorinc, who covered the saga. Lorinc unpacks both the hype and genuine promise in technology to make everything from the street lighting to water quality in cities better, with examples from Barcelona, New York, Los Angeles, and other cities.
By Michael Fraser and Brent Ewig
Just two years ago, city leaders across the U.S. became key players in an unprecedented public-health campaign, standing up clinics and outreach efforts to get as many residents vaccinated against COVID-19 as possible. This book by Michael Fraser and Brent Ewig, leaders with the Association of State and Territorial Health Officials and the Association of Immunization Managers, examines those efforts as part of the larger effort to "turn vaccines into vaccinations in every corner of the nation." Their focus is unpacking what worked and what didn't across a fragmented public health system that heavily relies on leadership at the state and local levels. 
By Mariana Mazzucato and Rosie Collington
Economist Mariana Mazzucato's latest book takes on the consulting industry, arguing that overreliance on consultants has drained governments of the skills and confidence they need to take on the big challenges of our time. If public-sector leaders are to raise their ambitions, she and co-author Rosie Collington argue, they'll need to invest internally in the dynamic capabilities of their civil service.