​
How citizen input supercharged three energy-saving ideas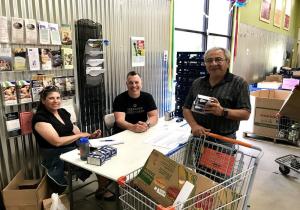 Last March, when Georgetown, Texas, started testing an idea to have the city generate its own electricity, they figured they already knew the plan's biggest selling point. Because the idea involved leasing space to install solar panels throughout the sun-drenched city of 60,000, city leaders assumed residents would be most interested in the cash they could pocket by renting out their rooftops.
But money, it turns out, wasn't top of mind. What residents liked most about the city's proposed "community power plant" was that it meant they'd never again have to worry about an outage.
"All of our metrics indicated that backup power itself shouldn't have much value at all," said Chris Foster, a top manager with Georgetown Utility Systems. Yet, even though residents experience, on average, only three outages a year, "they're afraid of being without power for even an hour in the summer heat."
The Georgetown team took that citizen feedback, re-worked its plans, and continued going back to citizens to refine them further. As City Manager Jackson Daly explained, "This community input has fundamentally changed how the project is being rolled out today versus how it would have been rolled out in March."
Georgetown is one of 35 finalists — or Champion Cities — in this year's Bloomberg Philanthropies Mayors Challenge, a contest for cities to develop innovative solutions to pressing urban issues. Like others in the challenge, Georgetown received $100,000 to prototype its idea and use a citizen-centered design process to collect meaningful resident input. Last week, cities took those learnings and resubmitted their final applications for a chance at winning $5 million in October.
[Get the latest innovation news from Bloomberg Cities! Subscribe to SPARK.]
This Texas city 30 miles outside of Austin isn't the only Champion City tackling tough energy issues. Fort Collins, Colo., is looking to improve energy efficiency in rental housing, and Pittsburgh wants to empower homeowners to make energy-efficient improvements to their homes. All three cities have found that working with citizens to "test, learn, and adapt" their ideas from the outset helped create stronger plans that have a greater chance of success.
Georgetown started from a strong position. It was already the first city in Texas to buy 100 percent of its power from renewable sources. The city's rooftop-solar plan would improve the reliability of the city's electric service and, because the electricity would be homegrown, reduce the amount of power lost to traveling long distances in transmission lines.
Over the past five months, the Georgetown team met nine times with community groups and surveyed 600 residents. And, as a result, they reframed their entire initial concept. Rooftop solar is still in the mix, but battery-based backup power is now the main selling point. In terms of technology, they moved from a model where each house would have its own small battery to a more robust strategy where multiple houses share a larger battery.
"About the only thing that stayed the same throughout this is that power would be generated and stored locally," Daly said. "Everything else has changed."
[Read: Prototyping city solutions and launching a revolution]
Citizen feedback drove a pivot in Fort Collins's plans, too. There, city leaders want to incentivize landlords to make energy-efficiency upgrades to their rental properties. And they're exploring a low-interest micro-lending model to do so.
Like in Georgetown, the Fort Collins team engaged the community in new ways. Testing the idea out with building owners resulted in changes to aspects of how the loans would be administered. The team also explored different ways to talk with low- and medium-income renters about the benefits of energy efficiency. If renters started to demand these upgrades, they figured, landlords might be more interested in making them.
To that end, the team went to a local food bank to prototype messaging. While the idea of lower utility bills hit home, they were surprised to find that a side benefit of energy-efficiency upgrades — cleaner indoor air — was just as important to renters.
"That really confirmed something that we really didn't expect," said John Phelan, energy services manager for Fort Collins Utilities, adding that the insight informed their strategy for convincing building owners to commit to the upgrades.
Pittsburgh's team worked with residents to prototype an idea for encouraging people to make energy-efficiency upgrades in their homes.
Pittsburgh's idea for promoting energy efficiency also evolved. Initially, the city wanted to create a Groupon-like platform to provide citizens discounts on LED lights, insulation, and other energy-efficient products and services. But after talking to residents, they saw their plan had a big blind spot: It assumed people were already looking to make these changes to their homes. More than coupons, they needed education and encouragement.
Pittsburgh's revised idea is more like a game meant to pique residents' interest in energy efficiency and nudge them to take even simple actions like switching to LED bulbs. Neighbors would be encouraged to work together in ways that would unlock shared rewards such as subsidized home energy audits.
While Pittsburgh's Melanie Ondek said a lot of details need to be worked out, she's confident the city's on the right track because it engaged citizens so early and so deeply. "This process overall has taught us that it's really important to take a few steps back," she said. "You have to ensure you have the right solution before you implement it."