​
These Mayors Challenge winners are fueling opportunities for women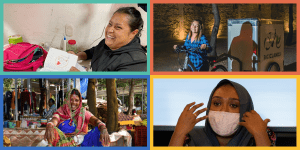 Amid the COVID-19 pandemic, more women than men lost jobs or had to stop working to take care of others, both across the United States and around the world. And with women globally earning an average of 77 cents for every dollar men make, it's projected that it will take nearly half a century to close the gender pay gap. 
Four cities that won $1 million in this year's Bloomberg Philanthropies Global Mayors Challenge aren't willing to wait that long.
"Since its start in 2013, the Mayors Challenge has always served as an indicator of cities' most urgent and emerging concerns," says Patricia E. Harris, CEO of Bloomberg Philanthropies. "Never was that more the case than this past year, when more than half of the 631 applicants focused on issues of inclusive growth and equality and four of the 15 winning cities zeroed in on solutions that uplift and empower women in their cities."
Bogotá, Colombia, Hermosillo, Mexico, Rochester, USA, and Rourkela, India, rose above more than 600 other contestants in the competition. Each put forward bold ideas to address women's unemployment, unequal access to high-paying jobs, and lack of economic independence. And they're using principles of human-centered design to build programs for women, by women–initiatives that can scale-up and be replicated in cities around the world.
Bloomberg Cities spoke with the leaders of these programs to learn more about how these four cities are innovating to speed up the way to gender equity.
Bogotá: Changing the culture of the care economy
In Bogotá, 1.2 million women do an average of 10 hours of unpaid care work a day, tending to children and also family members with complex health needs. "If you are devoting 10 hours to unpaid care work, when do you have any time to pursue any income generation?" asks Diana Rodríguez Franco, the city's secretary for women.  "The full spectrum of women's rights is hampered dramatically by the unpaid care burden."
Mayor Claudia López Hernández took office in 2020 determined to raise awareness of this problem and offer caregivers opportunities for education and self-care. She launched a comprehensive citywide approach to changing the culture around care in Bogotá. One key component is what's called "Care Blocks." These are neighborhood sites where caregivers can pursue a high school degree, get legal aid or psychological counseling, and even learn to ride a bike, while the people they care for are tended by others on site. Another element is "Care Buses" that travel to the city's underserved areas with the same services. 
Even with those offerings, Rodríguez says, 14 percent of women caregivers were not being reached because they never leave their homes–the person they are caring for requires constant attention. During a "door-to-door care" pilot conducted as part of Bogotá's participation in the Global Mayors Challenge, city leaders asked these women what services they need. The answer: In-home medical services for the persons they care for and help with household chores like cleaning or laundry so that they can actually break away to visit a Care Block or Care Bus.
 "When we asked women if they wanted something, most of them said yes," Rodríguez says. But they also wanted something to do during that time to connect with others, which is why the program created activities for them such as group exercise classes. "They want support networks because they are so isolated at home," Rodríguez says. "Not only do they seldom have a chance to exercise, they don't have a chance to connect, to create social bonds and capital."
One goal of the program is for 300 caregivers to take a course with the National Apprenticeship Service or earn official certification that recognizes their years of hands-on experience as caregivers. This could open up job opportunities for them in the paid-care sector.
 "We're changing very entrenched conceptions of who is responsible for care," Rodríguez says, noting that the program aims to shift the culture. A goal is to make caregivers more visible, both within their homes and in society, in hopes that their work will be more valued and other family members, including men,  might step up to share the burden. By launching their reforms quickly and iterating, she believes, Bogotá is increasing the chances of building  lasting impact. 
"I think what matters most is women's ownership of the program," Rodriguez says. "It's women who can share their reflection, who can actually say 'I benefited, I finished high school through the care system. I want this to stay. I don't want this only to be my story, I want this to be the story of 1 million women in Bogotá.'"
Hermosillo: Bicycling to build green businesses
Of those who have lost jobs in Hermosillo during the COVID-19 pandemic, 60 percent are women. Recognizing that the jobs lost are in sectors such as hospitality and retail that are expected to take the longest to fully recover, the city's planning department launched a program that not only addresses women's unemployment but also fosters a green economy. 
The program, called Biciclando, relies on women to bike through neighborhoods and collect recyclables from residences. An app is being designed to connect the women to homes that want pickup. One goal is to increase the city's recycling rate, which is currently just 2 percent. "It is a way to empower women, so they are more capable of bringing income to their home, particularly for those women who are more vulnerable," says José E. Carrillo Atondo, who heads up Hermosillo's Municipal Institute of Urban Planning and Public Space, through a translator.  "Everyone wins. The city has less waste for landfills. People can get rid of their recyclables at their homes. Women also get an additional income." 
City leaders hope Biciclando will get more women to take up cycling in general, increasing their mobility across the city. During a pilot conducted in conjunction with the Global Mayors Challenge, six women tested electric-assist bikes and wagons for picking up recyclables. Based on their feedback, a number of improvements are coming to this equipment, including better bike maneuverability, bigger wagon capacity, and the addition of lights and a rearview mirror to improve safety. Hermosillo's goal is to launch Biciclando with 18 women bicycling the city by September 2022. 
Central to the program is the development of three new "Circular Economy Centers" where the women will bring the materials they collect. The hubs will also educate residents about separating recyclables from waste, to increase takeup of the concept and create more customers. Bicilando will provide the women with everything they need for their work, from the bicycle to helmets and safety vests. The women will be encouraged to form their own association so they can independently manage sharing of equipment across shifts. Officials hope to inspire and train more women in Hermosillo to launch green businesses. 
For me, it's a very beautiful experience," says Ana Belén Garcia Felician, who lost her job during the pandemic and participated in early tests of Bicilando. "Apart from just helping clean the city, I help my daughter become aware of the issue and leave her with the wisdom not to improperly dispose of garbage and to help collect it for the benefit of everyone."
Rochester: Creating job opportunities for women of color in construction 
In Rochester, city leaders want to turn a booming local construction industry fueled by expansion at the Mayo Clinic into employment opportunities for women of color. Currently, BIPOC (Black, Indigenous, and People of Color) women represent just 1 percent of building trades workers in the area. City leaders want to boost that number to 13 percent, which would reflect the city's demographics .
To get there, Rochester has adopted a co-design approach. Throughout 2021, several women of color from the community–some with construction training and others who had never considered such work–met regularly with owners of a construction firm and an architecture firm, a labor union representative, and a technical college instructor. Their shared goal: to figure out how to make hiring practices, construction sites, and training courses more inclusive. 
"We know the disparity exists," says Chao Mwatela, the city's diversity, equity, and inclusion director. "This was an opportunity to say, 'Let's take time to really understand what the problem is and the various barriers, not just for BIPOC women, but also for industry.'"  The co-design team's ideas ranged from adding a second portable toilet for women only at job sites, to hiring mentors for both industry representatives and women, to implementing a system to resolve potential workplace conflicts. 
The first five women to participate in the new program will begin work on a construction site within a few months. The women employees and someone from the building company will be guided by mentors with skills each has said are important. And they will all meet regularly with an evaluator to note what's working and address challenges that come up. All the information collected during those sessions will inform future cohorts, according to Mwatela.
"We hope that industry representatives who go through this, as well as BIPOC women, would then enroll to be mentors themselves," she says. Longer term, a technical school program also developed through the co-creation process will aim to get women with no building experience the skills they need. The city also plans to assemble a co-design team with parents and young people to collaborate on ways to promote building and design careers to girls starting in elementary school.
Rourkela: A simple way to help vendors boost food sales
In Rourkela, an industrial city of about half a million people in northeast India, the majority of vendors selling fruits and vegetables on the city's busy streets are women. Some come to sell the produce from their family farms; others have arrangements with farmers to take the goods to market from villages nearby. However, without refrigeration for these perishables, about 15 to 20 percent of the food goes to waste before even reaching customers. It's common for women vendors to slash prices—cutting into their earnings—to move their inventory before it spoils. 
Asutosh Nayak leads a project that responds to these problems by building cold-storage facilities where the vendors can keep their produce fresher for longer. One is already in operation, and the city aims to build five more. In addition to addressing price-cutting, refrigeration also boosts the vendors' economic stability because they have more flexibility in managing their inventory. If, for example,  severe storms are in the forecast, farmers can harvest more before the weather turns and keep the produce fresh. 
According to Nayak, engaging women vendors in early tests was critical to developing and improving the idea, as well as building trust with the vendors. About 250 women vendors recruited through a local self-help group tried out the cold-storage system. Nayak's team regularly asked vendors for their feedback on issues like how easily they could access their goods "so that when we start scaling up, issues do not come up." The women's experience also helped determine what fees would be reasonable to charge for the cold storage. "This was a new technology for them to understand," Nayak says.
In addition to increasing economic prospects for the vendors, the program is also building capacity in the women's self-help group. The city has put day-to-day management of the cold-storage units into their hands, and they are gaining experience with marketing, sales, and finance. The goal is to engage up to 20 more women's self-help groups in the next three years as five more cold rooms come online, opening new opportunities to more vendors. "We can support our families now," says Minati Mallick, leader of the women's group that participated in the initial tests. "It's not just us but all of the residents of our city  would be able to reap its benefits."