​
Empowering renters to resist eviction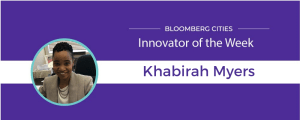 Name: Khabirah Myers
Title: Coordinator, Office of Tenant Legal Services
City: Newark, N.J.
Newark is a city of renters: 75 percent of the city's 285,000 residents rent their residences. With a surge of new development in the city, rising housing prices are putting a growing number of low-income tenants at risk of eviction. Khabirah Myers launched the city's new Office of Tenant Legal Services four months ago with one mission: to make sure these people have a lawyer when they go to court.
Myers has practiced landlord-tenant law in Newark for a decade and she knows the scale of the challenge. Landlords file a staggering 20,000 eviction complaints against Newark renters each year, and nine out of 10 of those tenants go to court without a lawyer.
"There's a huge power imbalance when you go unrepresented and the landlord is represented by an attorney," she said. "If you don't do x,y, and z, you and your kids can easily get pushed out to the street."
Since June, Myers and her one paralegal have taken on more than 140 cases, partnering with contract attorneys who handle the representation. Their advocacy, Myers estimates, has helped more than 350 Newark tenants avoid eviction and, potentially, homelessness.
Next, Myers hopes to scale up her office's offerings by tapping into lawyers' pro bono services. She's also participating in the city's interventions through an economic mobility initiative spearheaded by What Works Cities; Newark is testing various approaches to improving housing stability by reducing the number of evictions.
"The city of Newark is experiencing an economic boom," she said. "We want to make sure everyone benefits from that."
Pro tip: "Don't try to live in a vacuum, because you don't. You can discover so many resources by collaborating with other offices in your city."