Contracting for results in Chicago's homeless services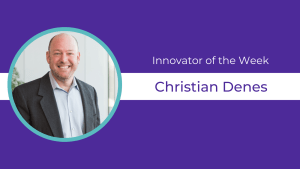 January 18, 2022
Title: Director of Strategic Planning and Impact, Department of Family and Support Services 
City: Chicago 
Even before the COVID-19 pandemic hit, Chicago faced a homelessness crisis, with thousands of residents sleeping on the streets or in shelters on any given night. 
In response, Mayor Lori Lightfoot last month announced a more than $1 billion investment in affordable housing. Meanwhile, Christian Denes and other leaders of the city's Department of Family and Support Services—which oversees services such as homeless shelters, youth programs and domestic violence response—also made a renewed commitment to data-driven results and equity. 
One change is a growing reliance on results-driven contracting that has service providers more focused than ever on moving clients into permanent housing. It's one reason why Chicago last month earned What Works Cities Certification in recognition of city leaders' exceptional use of data to produce better outcomes for residents.  
"This grew out of a theme that was elevated from an old-fashioned listening tour of our staff and grantees," says Denes, director of strategic planning and impact at the Department. "We were just not sure if we were making the right decisions, in terms of where we were putting our money. The question we wanted to answer was, are we serving our clients well in terms of where we're investing, and how do we get better at understanding that and then making decisions." 
Beginning with a pilot in 2018, Denes and his team introduced a new procurement approach that requested more meaningful metrics from grantees. It also gave organizations providing services on the ground more transparency into what the city actually wanted and expected from them. 
"When you express everything in RFPs and contracts in 'government speak,' you lose all the context and people aren't clear on where are we trying to go," Denes says. "Do we have a shared understanding of what we really want to see happen with these clients?" 
By focusing on more clearly defined metrics, the pilot revealed that a key bottleneck in moving unhoused individuals to permanent housing was uneven completion of a coordinated entry assessment in city shelters. This assessment, a national best practice required by the U.S. Department of Housing and Urban Development, ensures that clients are on the list to be matched with permanent housing resources.  
Denes says the new procedures uncovered that changes as simple as adjusting the times when the assessment was taken resulted in dramatic improvements; one shelter increased the number of assessments it completed from 63 percent to 84 percent simply by making its intake hours more flexible.  
Pro tip: "Communication with grantees is essential. Change is scary, especially to grantees, and we always stress that we we're going through this process with you and we're going to learn from you." 
Check out the ten new cities to attain What Works Cities Certification as well as other cities that have become Certified since 2018.