​
A geologist transitions to leading city innovation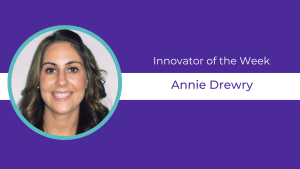 Title: Chief of Performance, Strategy & Innovation
City: Tulsa, Okla.
Annie Drewry likes to say that, as valuable assets go, data is the new oil. She would know. A geologist by training, Drewry has worked most of her career in oil and gas exploration. 
Eight months ago, she joined the city of Tulsa in a role that aims to maximize the use of data for local decision making. Tulsa is already a leader in this area, having earned What Works Cities Certification. Still, Drewry has found, city leaders sometimes struggle to turn all the data the city has access to into valuable insights they can put to use. 
As it happened, she came on board right as Tulsa was joining the Bloomberg Philanthropies City Data Alliance, a program that aims to help cities that are already sophisticated at using data get to even better. Drewry is leveraging the support to do a number of things, such as strengthening the city's performance management systems and shoring up data governance structures. 
Bolstering program evaluation is another big focus. That effort is starting at Tulsa's municipal court. There's a promising program, called the "specialty service docket," that gives some low-level offenders a pathway to having fines forgiven and charges expunged if they connect with social services and show up for regular court appearances. Drewry's team is evaluating how that program is working and could be improved, and building a foundation for how data can be used to evaluate the program's impact over time.
"What we're trying to build here is not only a culture of data-driven decision making, but really a culture of evaluation," Drewry says. That means creating processes and systems that stay even when key city employees move on to other jobs. "Inevitably in this day and age, people are coming and going. We're putting the policies in place so that if one person moves on, the baton passes to someone else."
Pro tip: "Listening is key to overcoming resistance to change. When you listen to peoples' fears, and are very clear about what you're trying to do, they see the benefit."