​
A collaborative approach to regulating scooters and other new mobility options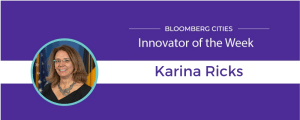 Name: Karina Ricks
Title: Director of Mobility & Infrastructure
City: Pittsburgh
As city leaders try to figure out how to regulate electric scooters, bikesharing, and all the other new mobility options flooding the market, they're walking a thin line. On one hand, they want to empower these innovations so that residents can benefit from them. On the other hand, they don't want to be trampled by private operators and overrun with complaints about parking and safety.
Pittsburgh's Karina Ricks has come up with an intriguing model for how to balance these concerns. She put out a request for proposals asking mobility companies to partner with each other and the city. The winning consortium would get two years to use Pittsburgh's streets as a testbed for integrating their services without competition; in exchange, the companies would help the city "learn while doing" and roll lessons learned into the city's regulatory framework for all providers going forward.
"It's a private-private partnership because we required the companies to cobble together relationships they didn't previously have," Ricks said. "And it's a public-private partnership because the private sector is helping us learn and figure out our own management strategies, and co-creating with us."
In July, the city picked a private consortium that's led by the e-scooter company Spin and includes Zipcar and Waze, among other companies, as well as the public transit agency and a public bikeshare system. This Pittsburgh Mobility Collective aims to cluster their services around neighborhood mobility hubs and allow customers to book and pay for service through a single app.
"This notion of creating a safe space, even a temporary one, for the public sector to authentically collaborate with the private sector is important," Ricks said. "We have mutual goals, and sometimes all the competition among service providers erodes the public sector's fortitude to defend those goals."
Pro tip: "You don't have to know everything there is to know before you try something new. Sometimes, you just have to jump in."