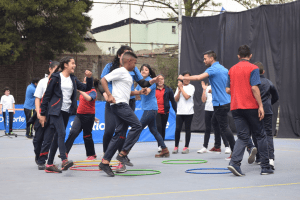 Santiago tackled childhood obesity through play.
THIS PROJECT CAN HELP YOU ADDRESS:
• High levels of childhood obesity amongst school-age children
• Low consumption of healthy food, particularly among low-income families
• Low level of physical activity amongst school-age children
THE PROBLEM
Chile has one of the highest obesity rates in the world—with more than 50 percent of the children in Santiago classified as obese or overweight. Obesity increases the risk of chronic conditions, reduces the capacity to do and enjoy physical activity, impairs learning and social participation, and is linked to increased pain and disability. The condition disproportionately affects lower socioeconomic groups, driving up health-care costs, reducing labor productivity and deepening inequality.
THE SOLUTION
Santiago created Juntos Santiago, a game that tackles obesity by encouraging students and their families to eat healthy food and engage in physical activity. Schools take part in healthy challenges (healthy snacks, steps with pedometers and family activities) that build good habits in the students and their families. Working together to combat childhood obesity, classes can earn points and win infrastructure rewards for their school (e.g. playgrounds, climbing walls, sports equipment) and fun activities (e.g. field trips).
THE IMPACT
2 pound average weight gain prevented per participating student
92% of children who participated in the Juntos Santiago program had a lower than expected Body Mass Index compared to kids who did not participate in the program
24 p.p. average increase in healthy snack consumption by participating students
DOZENS OF CITIES ARE PUTTING THESE IDEAS INTO ACTION
Learn more about other Mayors Challenge-winning programs.