​
Volunteering to build city hall's innovation capacity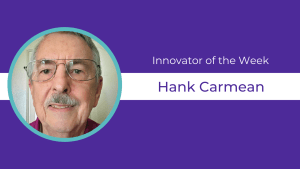 Name: Hank Carmean
Title: Volunteer 
City: Scottsdale, Ariz.
Every city has residents like Hank Carmean—accomplished professionals who want to keep their work skills sharp, even in retirement. But few have figured out how to tap this energy to build innovation capacity in city hall—as Scottsdale has. 
Carmean, 82, is a West Point grad who, after serving in the military, worked as an executive at a large engineering and construction company. Late in his career, Carmean grew interested in  performance management and process improvement and did a little consulting before retiring in Scottsdale.
In 2009, he met Brent Stockwell, who was building a performance management program in Scottsdale city government. Carmean signed up to work 15 to 20 hours a month as an unpaid volunteer, acting as a "sounding board," he says, and helping with training employees. Scottsdale's excellence at using data to deliver results for residents is one reason why the city earned What Works Cities certification in 2019. Carmean also helped develop the city's process-improvement program aimed at identifying and trimming waste out of daily workflows. He acted as the lead facilitator on the city's first such project in partnership with the police department and has facilitated or advised a half-dozen projects since then.
Stockwell, who's now assistant city manager in Scottsdale, calls Carmean "a shining example of how people can serve their community through coming alongside employees and sharing their valuable experience and expertise." Carmean says he gets a lot out of it, too. "I get to work to my heart's content on things that I like to do," he said. "Secondly, I would be bored out of my gourd if I didn't have something like this. And thirdly, I really like the people on the city staff—they're really competent, friendly people and I appreciate how well they treat me over there."
Pro tip: "If you want to institutionalize a new procedure, process, or practice, it must be written, clear, understood, accepted, and followed. There's no such thing as autopilot for sustaining something you want to change."