​
Using innovation to give residents 'full agency'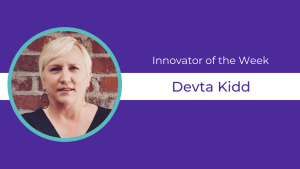 Name: Devta Kidd
Title: Director of Innovation, Office of the Mayor
City: Bloomington, Ind.
Fall is a special season in Bloomington, Ind., a college town where the end of summer means students returning, football games, and enjoying the southern Indiana scenery.
For city officials, the change of seasons also means lots and lots of leaves, which every year cost the city more than $700,000 to remove. City leaders wanted to reduce that expense, while also finding a more environmentally friendly method of leaf collection for Bloomington's 13,200 households.
That's where Innovation Director Devta Kidd comes in.
Supported by innovation training sessions with Bloomberg Philanthropies, Kidd and her team first surveyed residents, looked at what other cities were doing, and then prototyped some initial solutions with a handful of families.
The work uncovered that residents felt that the city's leaf removal process was erratic and unpredictable and that the strategies they preferred were ones that gave them full agency. "We thought, what if, instead of putting money toward creating a route that gets to people as quickly as possible, we thought of these leaves as a resource that people want on their properties?" Kidd says.
Last fall, the city provided mulching and composting education and support for 22 households. Almost 60 percent of those households were able to compost and mulch most of the leaves in their yards, while the other 40 percent put out some yard waste bags.
This year, the program has been opened up to 1,000 households, with just under 500 having signed up so far. Kidd says the team has learned a great deal through prototyping, specifically to offer more and more easily accessible educational material on mulching and composting. The program this year also will offer a free lawn consultation and survey.
The environmental benefits are clear, Kidd says, as are the cost savings; last year's pilot indicated the overall leaf removal costs for the city could be at least cut in half.
Kidd, who has a background in leadership development and change management and calls her current position her "dream job," finds herself at a familiar point in the innovation cycle. "We really need to answer the question of, this seems like a good idea, but can it scale?"
Pro-tip: "Innovation is already happening; it's your job to direct it and align it with the values of your mayor or city manager."