Unleashing the creativity of city employees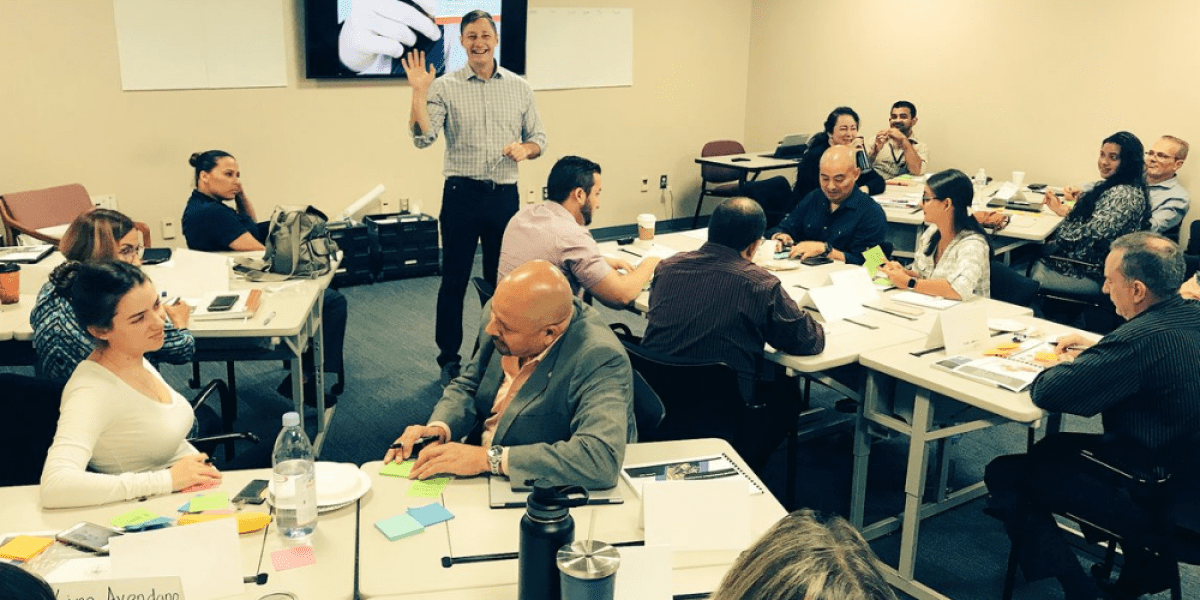 September 14, 2018
Increasingly, cities sit at the intersection of some of our most pressing problems, such as homelessness, inequality, and climate change. At the same time, local budgets are feeling the strain of state and federal cutbacks. As one U.S. mayor told Bloomberg Cities earlier this year, "Programs that have been historically funded by the federal government … now rely on municipal funding."
City halls are expected to do more with less. In response, a growing number of them are focusing on upskilling their own teams of city employees, by training them how to reduce wasted efforts, improve efficiency, and solve problems faster. One promising approach has cities creating internal academies that bring these methods to the center of everyday work. Here's how some of the most successful cities are doing it.
Denver
Mayor Michael Hancock made improving municipal performance a part of his 2011 campaign. Faced with budget cuts, low employee morale, and a booming population demanding more government services, he found the city was short on resources but tall on ambition. Inspired by a successful program at Denver Health, Hancock set a strategy of investing in frontline workers.
The city created Peak Academy, a coaching and educational program that trains municipal employees in how to spot waste in their day-to-day work and collaborate with colleagues to eliminate it. Borrowing from the private sector, particularly Toyota's "Lean" manufacturing strategy, Denver has trained about 7,000 public-sector workers in these techniques. Those employees have gone on to implement thousands of small and large innovations that have collectively saved the city close to $30 million.
"We started focusing on what our employees had control over, and what they could fix internally," said Brian Elms, who ran Peak Academy for Mayor Hancock, wrote a book about what Denver learned, and now consults with other cities looking to replicate the model. Elms cited the city department that handles licensing for restaurants, liquor sales, and other businesses as one that reduced the amount of time it takes to handle a typical transaction from an hour and 45 minutes to just 12 minutes.
"The goal is to saturate the entire workforce with structured problem solving, and to create a language for how to attack a problem in your organization," Elms continued. "Once your entire team is using the same vernacular, you can actually cut through to real solutions a lot faster."
[Read: Replicating Denver's Peak Academy: A conversation with Brian Elms]
Chattanooga, Tenn.
After learning about the Denver Peak Academy through Bloomberg Philanthropies' What Works Cities initiative, Tim Moreland, Chattanooga's Director of Performance Management and Open Data, was inspired to bring the approach to Tennessee.
"Frankly, we were struggling to improve service delivery once problems had been identified," Moreland said. "After seeing the training and, more importantly, the results [from Peak Academy], I was sold on the idea that providing frontline staff with the best tools from Lean methods, change management, and human-centered design can start to improve service delivery."
Since launching its own Peak Academy in 2017 with no budget or dedicated staff, Chattanooga has trained more than 100 civil servants and now credits the program with saving the city about $100,000.
"We had one employee who was spending an hour every day reformatting code enforcement letters," Moreland said. "But after going through the Academy, she realized she could work with IT to fix the template." Now she's able to use that time coming up with more efficiencies, including developing a procedure to reduce the number of calls that are wrongly transferred to her department. Now staff have fewer interruptions, and citizens are getting routed to the correct department on the first try.
"There are so many stories of individual city employees owning their processes and making improvements," Moreland said. And now that we've had a critical mass of people trained by the Academy, whole departments are beginning to use these tools on bigger issues."
Miami
Miami is also building an employee training program modeled on Denver's. It's called the Miami Innovation Academy. Cheriene Floyd, the city's Strategic Planning & Performance Manager, is one of its co-founders. "We're teaching folks how to use data and improve their own processes in-house instead of us going to their department and doing it for them," said Floyd. "The trainings help employees and departments identify problems important to our residents, get their feedback, and find the solution." Since last October, the city has trained more than 150 employees.
And the impact has been noticeable. Academy graduates helped the city digitize the process by which citizens request actions against zoning code violations. Previously, homeowners would have to do this in person; now they can do it online. In one month, the number of walk-in customers of this service dropped by 200.
City hall employees are seeing the benefits of feeling empowered to create change. Upcoming training sessions are fully booked, in large part because of positive word of mouth from graduates. "At one point we wanted to get 25 grads together in the cafeteria to talk about their experience, and we ended up having about 50," said Michael Sarasti, Miami's Director of Innovation and Technology, and the other co-founder of the Academy. "People were very attentive, proudly bringing out their process maps and putting them on a wall, talking about changes that are coming. One guy — unprompted — got up and gave a speech about why he found the training so important.
"People feel like they're part of a club now," Sarasti added. "To me, this feels like when a bunch of musicians are coming together — and that a scene is brewing. Something really special is happening here."