​
Raising the level of care for Paterson residents struggling with opioid addiction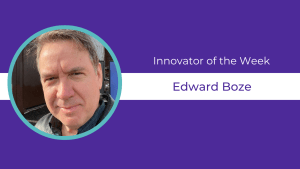 Title: Chief Innovation Officer 
City: Paterson, N.J. 
Local government is used to running life-or-death emergency services where every minute in response times matters. Edward Boze wants the way Paterson responds to residents struggling with opioid addiction to be one of them. 
Boze and his team are developing "RealFix," a new program that will provide medical attention and prescriptions to opioid addicts within 90 minutes, no matter the time or day. 
RealFix was one of the 15 winners in this year's Bloomberg Philanthropies Global Mayors Challenge. Each year, more than 1,700 opioid-related overdoses take place in Paterson, and residents experiencing opioid-use disorder face significant barriers to timely treatment. 
Boze says that people struggling with opioid addiction in the city too often face a deadly choice. In order to avoid a painful withdrawal "they fear more than death," they can either wait a week or more for medication which takes away the cravings--or use  more opioids, and continue the spiral of addiction. 
In a recent pilot, the Paterson team was able to get the wait down to an average of 76 minutes from the time an addict makes a call to receiving the medication. Boze says the process knits together a tele-medicine doctor, then the pharmacy, then a delivery service, all of which is tracked closely by the RealFix team, which provides a central nervous system for the whole process. 
"That is a game changer, because for the first time, the medication which counteracts withdrawal is more readily available than the opioids," Boze says. The Paterson team is very deliberately building the service in such a way that it can be easily adopted by other cities. 
Impact, efficiency, and measuring results are all qualities Boze has stressed since coming to Paterson in 2019 with decades of experience in the private sector, including at PriceWaterhouseCoopers and Xerox Business Services, where he formed their Center of Excellence and created their Office of Innovation. 
He says he's found the public sector refreshing in its spirit of camaraderie and purpose. In his career in the private sector, Boze says he too often worked in situations where ideas and information were zealously protected like state secrets. "In government," he says happily, "you're hoping that another city steals your idea."  
Pro Tip: "In many cases, the problems we face are a failure of customer service. We may think, 'it's got to be more difficult than that,' but it's really not."