This Philadelphia innovator aims to solve the current housing crisis by preparing for the next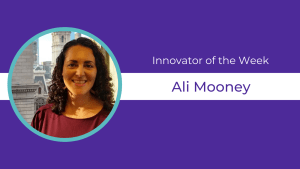 November 17, 2021
Name: Ali Mooney
Title: Housing Programs Manager, Philadelphia Housing Development Corporation
City: Philadelphia, Pa.
In Philadelphia, the top priority for federal rental relief funds the city has received during the COVID-19 pandemic has been clear: easing the immediate burden for renters suffering through an unprecedented crisis. More than $220 million has gone to Philadelphia-area renters since the pandemic began.
But Ali Mooney, the Housing Programs Manager at the city's Housing Development Corporation, says her team also made it a priority to use a portion—about $300,000 so far—of the federal Emergency Rental Assistance Program (ERAP) funds to ensure that the city has stronger systems and data capabilities to meet the next housing crisis.
Federal guidelines allow for up to 15% of ERAP funding to be used for administrative purposes and Philadelphia has been among the leaders in cities that have used the money to invest in streamlining systems—specifically in simplifying the application process into a more digital-friendly format.
Among the changes made have been a variety of algorithms and inter-departmental connections to make it far easier for applicants to quickly know if they are eligible. "It really cuts down on the time each application takes," Mooney says. "We're trying to take away as much of the physical work that people have to do as possible."
Mooney says the city had a Quickbase site built specifically to administer the housing relief funds that was very customizable, allowing for modifications and improvements over the course of the pandemic.
She says the feedback from residents has been largely positive, though Philadelphia faces the same obstacles as many other cities in the digital divide it still faces.  "We still hear that people are having trouble getting through the system, but the fact that we've gotten 65,000 applications in phase 4 of this funding still speaks volumes about this being easy enough to use," Mooney says.
Investments in digital systems also often can be utilized on other city projects, and Mooney says the city hopes to use what it learned designing the housing funds portal to streamline access to its universal basic income pilot as well as alerting residents enrolled in city programs when they may be approaching a benefits cliff—when their income may make then ineligible for certain benefits.
Pro tip: "For a benefits program, particularly during a crisis, there are many concerns. But the key is to focus on the easiest way to get the money out the door."