Leading by example: How innovative cities are tackling COVID-19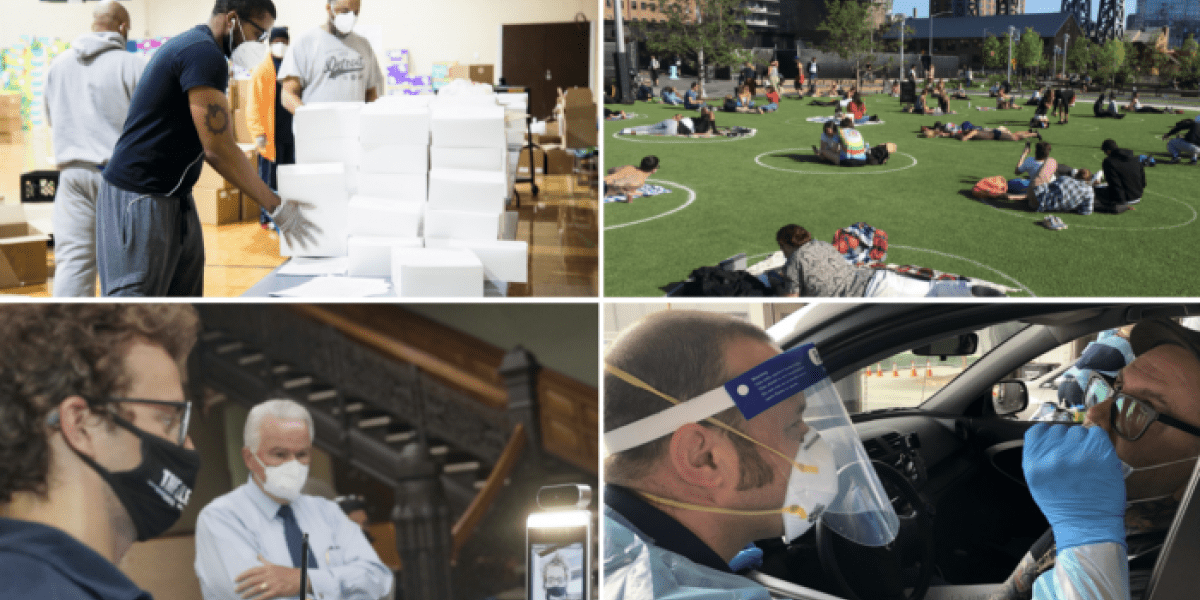 August 7, 2020
Now that city leaders have six months of the COVID crisis behind them, they'll undoubtedly begin to look beyond the emergency at hand to ask, "How can cities better prepare for unthinkable, unimaginable, and virtually unprecedented events like the coronavirus pandemic?"
Many of the answers to that question can be found the examples of the fast-acting and sure-footed responses in cities that, long before any of us had ever heard of COVID-19, committed to support innovation teams that are well versed in the ways data, human-centered design, experimentation, and collaboration can help tackle some of cities' greatest challenges.
One of those cities is Long Beach, Calif., where the Office of Civic Innovation is helping Mayor Robert Garcia address a number of COVID-related concerns. Started as a Bloomberg Philanthropies grant-funded innovation team in 2015 — and then transitioned to a city-supported program when that grant ended in 2018 — the Office of Civic Innovation has a long history of helping the city think in new ways around a number of issues, including police recruiting and homelessness.
When the pandemic hit, Director Tracy Colunga and her nine colleagues zeroed in on COVID response — and doubled down on problems that stemmed from homeless shelters closing or losing capacity because of the demands of social distancing. Their previous experience with the issue — and their existing relationships with agencies throughout city hall — immediately paid off, Colunga notes. "We set up our first shelter in a matter of 48 hours," she says. "Within 48 hours we had 40 homeless people at the door. Our heads were spinning."
The team ultimately helped set up three shelters that, on average, now house, feed, and provide basic medical services to 200 people per night. "A pandemic is something most communities don't think will ever actually happen," says Long Beach's Multi-Service Center Coordinator Elsa Ramos. "For us, what has helped throughout this whole pandemic is thinking about how we can bring the smartest of the smartest people together in one room and focus on solutions and not get stuck on the red tape that city government often can present. We made a lot of things happen in the first week of operation that, if we were to go through normal channels, would have taken us months and months to do."
That mindset of agility and experimentation is the essence of the innovation-team philosophy, says Stephanie Wade, who works with i-teams at Bloomberg Philanthropies. "There was no playbook for what to do when COVID hit, but these teams have intrinsically learned how to tackle problems that have no answer," she says. "They operate in the ambiguous. They operate in the unknown. They were able to pivot on a dime."
Key qualities that innovation teams share that can be crucial in a moment of unexpected crisis:
• A mindset of experimentation. "When the pandemic hit, there was no time to retrain someone to be innovative," Wade says. "These teams existed and were trained to be innovative."
• Existing relationships through city government and the private and nonprofit sectors.
• A focus on producing measurable results that get to the root of the problem.
• An emphasis on human-centered design that puts the experience of residents/users first.
• A reliance on prototyping and testing to get to identify workable solutions.
• Interdisciplinary knowledge of issues. During the pandemic, i-teams have been able to impact multiple city populations through one initiative.
Long Beach isn't alone in leading by example. Other innovation teams faced different challenges but found similar success:
• In Durham, N.C., the i-team worked with the Durham Housing Authority and other partners to quickly design and implement outdoor clinics to help residents in public housing and those returning from prison apply for federal CARES Act benefits. As a result, they helped nearly 70 residents receive more than $80,000 in stimulus payments. The team also adapted its Welcome Home program, which provides residents returning to Durham from state prison with peer support and a package of useful items (such as cell phone with pre-paid minutes and a bus pass), to help residents self-quarantine for their first 14 days home and supply them with basic personal protection equipment. Durham also has relied heavily on behavioral science — a key innovation team tool — in devising a "nudging" system to help the city coax residents and businesses into better compliance with safety protocols during its post-lockdown opening.
• In Seattle, the relationships forged by the city's innovation team across multiple government departments helped track down more than 700,000 pieces of PPE in the pandemic's early days. The i-team also used its experience with human-centered design to design the front-end, customer interface of the city's testing program.
• In Baltimore, the i-team launched the Baltimore Health Corps, a $12-million public-private partnership to recruit, train, and employ more than 300 residents who are currently jobless due to the pandemic to serve as contact tracers, care coordinators and community health workers. The Baltimore Ravens recently announced a $250,000 donation to the project, bringing total contributions to $10 million in less than 60 days and leaving only $2.3 million left to fundraise.
So, perhaps you can't train specifically for the unknowable. But as these innovation-focused city employees prove, you can develop a mindset that helps you respond. "We have all learned to be flexible and agile. We're all trained in user-centered design," Colunga says. "At the end of the day, we're thinking about the end result, the end client, and what does the data tell us."
Photos courtesy of (Clockwise): City of Detroit, STRF/STAR MAX/IPx, City of Seattle, and Jersey City