​
Engaging residents to break the cycle of poverty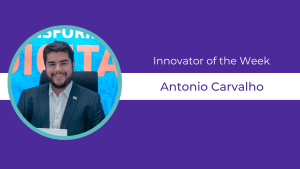 Title: Secretary of Governance
City: Maceió, Brazil
Two years ago, Antonio Carvalho took leave from a job in Brazil's national congress to work in Maceió, a city of 1 million on the Atlantic coast. He feels the difference every day. At the national level, he says, the relationship between government and residents felt distant. In city hall, that relationship is much closer. "It's really opened my eyes," he says, "to see how local politics and local public services work."
Carvalho is going even deeper into resident engagement through his participation in the Bloomberg Philanthropies Innovation Training program. He leads a team of city hall colleagues who are learning to use human-centered design to work with residents to co-create solutions to pressing challenges. 
The challenge the Maceió team is working on is breaking the cycle of poverty in a vulnerable neighborhood known as Vergel. They went out into the community to interview residents about their needs and identified one that stood out among others: childcare. About 80 percent of households in Vergel are led by women, and many of them are unable to work because they have children to take care of. 
The team partnered with mothers in the neighborhood to come up with ideas for solutions. One they are developing now is to create small support networks for mothers. The idea is that some mothers will be able to earn money caring for additional children, while freeing other mothers to earn their own paychecks working at different jobs. The team is now collaborating with mothers to prototype how this could work, ironing out the kinks before ramping up a pilot project.
"We started out very broad in our thinking," Carvalho says, "but with this idea, I think we've gotten to one of the biggest roots of the problem" of poverty in Vergel.
Another initiative Carvalho is leading is the digital transformation of services in Maceió. The city made some strides during the pandemic in moving paper-based processes online, but now Carvalho is looking toward developing new services that solve different problems for residents, such as home delivery of medicines. He's using an "open innovation" approach, essentially tossing challenges the city is facing to local entrepreneurs, and asking them to come forward with their best ideas for how to address them. 
"Open innovation is about more than developing good products," Carvalho says. "It's about delivering services to residents that are useful—and that builds trust in government."
Pro tip: "In government, we don't have to be superheroes who have all the answers. We can make mistakes. The important thing is to recognize it and change direction."