​
Curb management director must balance ever-expanding usage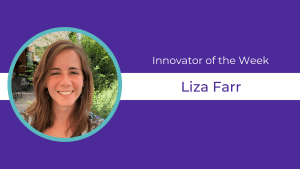 Title: Director of Curb Management
City: Providence, R.I.
As a graduate student studying urban planning at MIT, Liza Farr wrote her thesis on how parking policies can reduce car use. Now, she's putting that knowledge to work as Providence's first-ever Director of Curb Management. 
Farr's role, which she started in August, is itself an innovation—one that reflects all the new and often competing ways the curb lanes of roadways are used today in congested urban areas. Farr has to balance the needs of pedestrians and people on bikes and scooters. Then there are the taxis, Ubers, and Lyfts delivering people, and the DoorDashes and Grubhubs delivering food. There are buses to think about. Delivery trucks of all sizes. Street trees, parklets, and outdoor dining, which boomed during the pandemic. Finally, there are the traditional needs of drivers—street parking, valet parking, accessible parking for people with disabilities—and new needs like charging stations for electric vehicles. "Talk to me in a year," she says, "and I'm sure there'll be 10 more."
One of the first things Farr did was to go out and get data she needed, but didn't have, on the city's parking meters. She installed an app on her phone that uses GIS to record the locations of things. Then, during downtime, she'd bike out to a commercial district, walk up and down the street and log the serial number on each parking meter, its repair status, and the posted parking regulations. She's now recorded almost every one of the city's more than 1,000 parking meters, and uploaded the information into a database that she can use to manage the meter operation.
"You can't take a proactive approach, or really, a fair approach, unless you have that baseline data," she says. You need "to understand both what's there and how it's used."
Next up, Farr will lead in producing a comprehensive curbside management plan laying out what she hopes can be an inclusive and adaptable way of managing not just today's curbside demands but also tomorrow's. One thing she's excited about is the opportunity to collaborate across all the city departments, from Parks to Licenses to Planning and more, whose roles intersect in this valuable sliver of urban real estate.
"These are all departments that want to be on the same page, all the time," Farr says. "If we start collaborating and talking about the curb, then I'll be you we're going to start talking and collaborating about all sorts of other things as well."
Pro tip: "Always start by identifying the problem you're trying to solve first, in order to understand what data you need and how you'll use it."