​
Building a data culture in city government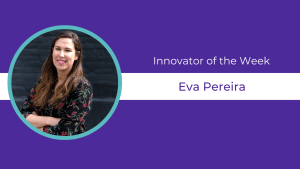 Title: Chief Data Officer 
City: Los Angeles 
Eva Pereira, chief data officer for the city of Los Angeles, thinks that more and more, the use of data is seen as a core business function that cities can't operate without. "It permeates every department and every level of decision making," she says. 
In L.A., as in most cities, a prime goal is building equity into all city functions as much as possible. For Pereira and her three-person team, that has offered an opportunity to stand up the city's first-ever racial equity website. "The idea is to connect residents with some of our history and then what the city is doing. This is a place where we can share programs and resources, but also hold ourselves accountable by publishing our racial equity plans across all of our departments." 
Pereira said the site, which is still in development, will be housed in the city's Civil and Human Rights and Equity Department. The focus on knocking down silos and trying to build a data culture throughout city government has been a major focus for Pereira, who has worked for the city for three years but became CDO last fall. 
The daughter of parents who both had careers in public service, Pereira started her career as a journalist at Forbes. She found that the newsroom life was not for her but found herself drawn to stories about leveraging data and technology for public good. She went back to graduate school, earned a degree in public administration from Columbia University and has been on the front lines of city innovation ever since. 
A big part of that work in Los Angeles has been opening the eyes of leaders in city departments to how data can help them do their jobs. A recent case in point: as the city's unprecedented heat wave took hold, Pereira and her team worked with the Climate Emergency Mobilization Office to build a web app that connects residents with cool spots during extreme heat events. 
"The Data Team was excited to partner with the Climate Emergency Mobilization Office on the  Cool Spots LA  project," says Pereira. "CEMO (Climate Emergency Mobilization Office) provided the needed data from across a number of departments, and then my team leveraged ESRI tools to design and build a web app that informs residents of cool spots and cooling centers during extreme heat events." 
When it comes to encouraging a data culture across city government, a main focus for Pereira is breaking down barriers between departments. "Culture to me is bringing people together, breaking down silos. In a city as big as Los Angeles, you have 40-plus departments and a lot of us are still remote, so it's very hard to bring people together. One mechanism for building that culture is creating a citywide data collaborative, a governing body that meets once a month and which my team essentially chairs." 
Pro tip: "Be curious and collaborative. A lot of the projects that we've taken on have been as a result of me just reaching out to a department to learn more about what they're working on and then uncovering a need."